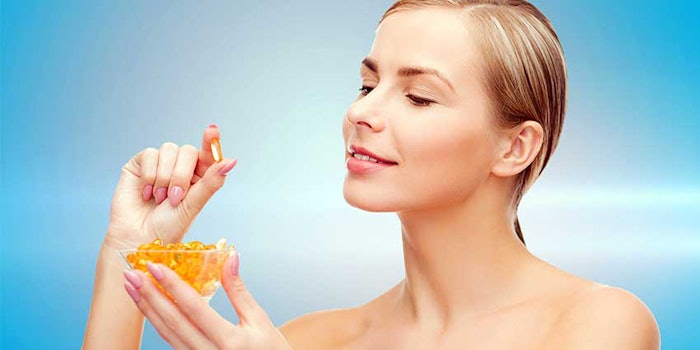 Dreamstime_38431419
Ultra Chemical Inc. has collaborated with Bicosome Co. to launch Bicoalgae ω3 (Omega-3) (INCI: Water (Aqua
) (and) Lecithin (and) Glycerin (and) 
Isochrysis Galbana
 Extract (and) 
Nannochloropsis Gaditana
 Extract (and) Tocopherol (and) Beta-Sitosterol (and) Squalene (and) Phytic Acid (and) Sodium Benzoate (and) Potassium Sorbate (and) Citric Acid in North America to prevent inflammaging.
Related: Inflammaging: Changing the Face of Skin Care
Bicoalgae ω3 is a natural-based product that endogenously promotes the resolution of chronic inflammatory conditions that accelerates aging or termed as, inflammaging. The ingredient has reportedly been clinically proven for barrier function, melanin reduction and other disorders related to inflammaging.
Bicoalgae ω3 has targeted delivery into the epidermal layer of two microalgae extracts that are rich in omega-3 fatty acids. N. gaditana is a source of omega-3 EPA and I. galbana is a source of omega-3 DHA. The ingredient has double encapsulation, which stabilizes the microalgae bioactives to help reduce common issues of discoloration or odor that has been observed with other marine-based ingredients.
"Microalgae is a powerful skin care ingredient that can have a positive impact on various skin conditions," said Laura Szymczak, senior director of marketing at Ultra. "Bicoalgae ω3 is loaded with microalgae that are rich in omega-3 fatty acids EPA and DHA, which influence several skin processes such as aging induced by chronic inflammation."
Ex-vivo efficacy studies have been conducted showing the effectiveness of Bicoalgae ω3 for decreasing inflammatory cytokines IL-1β and IL-8, as well as decrease the oxidative stress as a result of exposure to blue light from electronic devices and UV-Vis.
Noted in the studies, Bicoalgae ω3 decreased the level of the age-related pro-inflammatory cytokines IL-1β and IL-8 in inflamed skin by 97% and 59% and decreased ROS up to 124%. The constant release of pro-inflammatory cytokines and ROS characterize chronic skin inflammation, while a decrease of these markers in inflamed tissues indicates an improvement of inflamed skin.
In vivo studies were conducted to evaluate the impact the ingredient has on conditions related to inflamed skin. Results showed an increase in skin barrier function with a decrease in melanin reduction, sunspots, red spots and pores. Positive results were also seen after clinical evaluation, patient self-assessment and aesthetic evaluation of the product in formulations.
For more information, contact Ultra Chemical Inc.