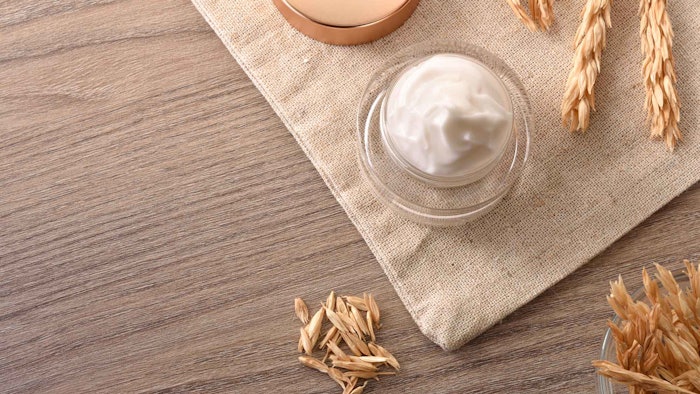 Davizro Photography
BergaMuls ET2 (INCI: Cellulose (and) Cyamopsis Tetragonoloba Gum (and) Beta Glucan) is Berg+Schmidt's latest plant-based emulsifier supporting rheological properties and an outstanding skin feel. It does not exhibit surface activity and it is gentle on the skin barrier, making it suitable for emulsifier-free concepts.
See archived: Berg + Schmidt's BergaMuls ET 1 Wins First for BSB Innovation Award
The natural o/w emulsifier, thickening agent and co-stabilizer is sourced from oat, wood and guar gum. Comprising water-soluble and insoluble components supports both emulsion stability and viscosity. Typically used at a concentration of 1-3%, it increases the viscosity of an o/w emulsion linearly with the size of the oil phase, the company reports.
The ingredient can be used in products ranging from light, translucent and refreshing cream-gels to soothing lotions and compact creams. It is not esterified but cold-processible and therefore also less likely to create soaping effects, per the company. The water-free, vegan raw material's upcycling from food by-products meets zero waste policy, circularity and sustainable approaches.
See related: Berg+Schmidt to Showcase BergaCare Range at in-cos Global
Kristin Köhler, division manager for cosmetics at Berg+Schmidt, said "With consumers becoming more and more aware of what is contained in their cosmetic products, we can help users and manufacturers alike make an eco-responsible choice for a highly effective end product. The new BergaMuls ET2 upcycled from food by-products meets a zero waste policy, circularity and sustainable approaches. In addition, it is a water-free, vegan raw material and therefore ideal for tomorrow's eco-conscious cosmetic formulations."
BergaMuls ET2 will debut at SEPAWA Congress 2023 in Berlin, to be held Oct. 25-27, 2023. Visit stand C140 for more information.