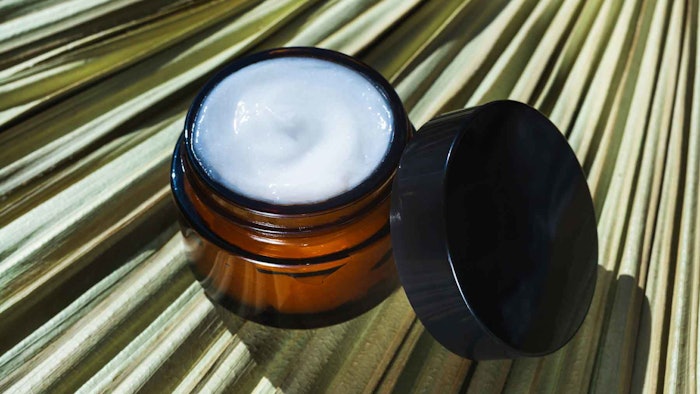 Genetic engineering specialist Xylome has launched two sustainable drop-in replacements for refined, bleached and deodorized (RBD) palm oil: Yoil (INCI: Lipomyces Oil Extract) and Yoil-Cream (INCI: Lipomyces Lipid Bodies (and) Citric Acid (and) Citrate (and) Gluconolactone (and) Glycerol (and) Vitamin E Acetate (and) Sodium Benzoate). The products are derived through the precision fermentation of yeast.
See related: C16 Biosciences Launches Palmless Brand, Teases Torula Palm Alternative
Yoil (yeast oil) is a white, solid fat at room temperature and a clear liquid at body temperature. According to the company, these characteristics are important criteria to replace the palm oil used in food, consumer goods, cosmetics and pharmaceuticals.  
Yoil-Cream (or TopicOil, for OTC) is composed of purified lipid bodies that naturally assemble during the yeast fermentation process. The single-ingredient, aqueous-feeling moisturizer forms without emulsifying agents, yet the lipid bodies contain approximately 87% Yoil internally, Xylome reports.
The cream is said to be stable upon repeated steam sterilization and potentially useful for the loading of hydrophobic active ingredients. According to the company, since the lipid bodies are approximately 100x larger than the size of commercial hydrophobic liposomes, the volume/surface ratio enhances the potential to deliver high concentrations of hydrophobic active ingredients.
Tom Kelleher, Ph.D., CEO of Xylome, stated, "A true replacement for the white refined palm oil has not existed from other microbial oils and plant sources. Xylome's scientist have spent the past 10 years working on the properties, lipid profiles and economics, so that a serious impact might be made toward the reduction of tropical deforestation."
Kelleher added, "The envisioned full commercial scale is very large but we hope to have such a program for this effort in place during early 2023, once a strategic equity partner is identified." Ingredient pre-launches are currently under way for potential customer evaluations, and a full GMP release of the products for cosmetics, drug delivery, food and other consumer goods or pharmaceutical uses is planned for 2023.
Both sustainable ingredients address significant social and economic challenges posed by palm oil by providing a palm-free alternative that can help offset the loss of tropical rainforests, the company reports. Stay tuned as Cosmetics & Toiletries explores the utility of these ingredients in an upcoming technical article; watch for it in March 2023.
See archived: Unilever x Geno to Scale Alternative to Palm Oil and Fossil Fuels