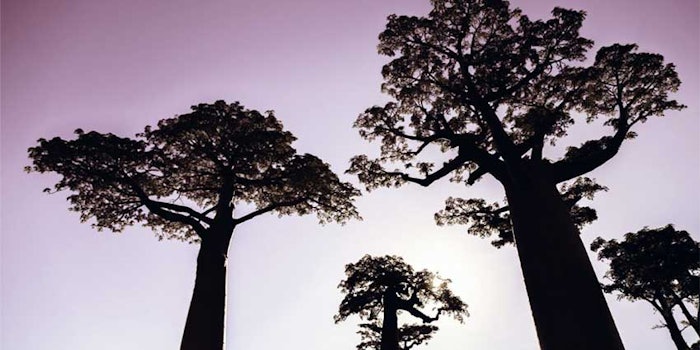 Cirebelle presents a novel range of African botanical actives, which include baobab, marula, moringa and Kalahari melon seed oils and bulbine extract, for personal care applications and products.
Related: Cirebelle CireWaxes Provide Synthetic Anti-aging Aid
The company points to its quality control and certification processes, which allow for the distribution of these quality products in a sustainable way.
CireNat Oil Baobab (INCI: Adansonia Digitata Seed Oil) is reportedly rich in vitamins A, C, D, E and rich in fatty acids such as omegas 3, 6 and 9. The linoleic acid in the oil aids the development of essential fatty acids. These components help to maintain skin health; tighten, hydrate and rejuvenate skin; and provide antioxidants for free radical damage protection.
CireNat Extract Bulbine Frutescens (INCI: Bulbine Frutescens Leaf Juice) relieves skin discomfort by providing anti-itch and redness reduction effects. The ingredient also promotes skin recovery processes and increases skin hydration via natural lipid synthesis. Because of its hydration qualities, the active can be used in stretch mark reduction treatments.
CireNat Oil Kalahari Melon Seed (INCI: Citrullus Vulgaris Seed Oil) contains a high amount of linoleic acid, vitamin E and antioxidants. This oil is gentle and non-irritating to the skin, for use in noncomedogenic, restorative skin care products. The ingredient also provides moisturizing and skin conditioning properties.
Previously: 'The Wonder Tree': Moringa in Cosmetics
CireNat Oil Marula (INCI: Sclerocarya Birrea Seed Oil) is high in oleic acid and vitamins C and E. Due to its antioxidant properties, it contains inherent anti-aging and anti-inflammatory benefits as well as improves hydration.
Finally, CireNat Oil Moringa (INCI: Moringa Oleifera Seed Oil) contains antioxidants and vitamins A, C and E. The ingredient imparts healing and anti-inflammatory benefits. It also provides anti-aging properties by building collagen, repairing damaged skin cells and imparting oxidative stability through behenic acid. Ideally, this ingredient can be used to stabilize pigment formulations and has high-slip and low spreadability capabilities.
Each ingredient in the CireNat line is EcoCert- and COSMOS-approved.