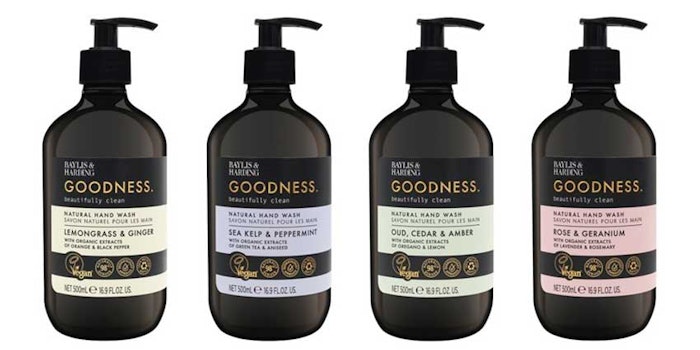 UK brand Baylis & Harding has introduced Goodness—a sustainable vegan and environmentally friendly hand wash collection. The natural product line has made its U.S. debut this month, launching at Target stores.
Related: Evoking Emotion: Clean Slate
Available in four fragrances: Lemongrass and Ginger, Sea Kelp and Peppermint, Rose and Geranium, and Oud, Cedar and Amber, each hand wash is inspired by nature with blended plant-based formulas.
According to the company, all four options use only natural and organic extracts and essential oils to deliver a 98% naturally derived formula that is 95% biodegradable and packaged within a 100% post-consumer recycled (PCR) bottle.
The hand washes are dermatologist approved since they are mild and gentle on the skin. The line is also dye-, paraben- and silicone-free and uses a mild coconut-derived surfactant as an alternative to SLES, making it SLS/SLES/ALES-free.
Lemongrass and Ginger
According to the company, the Lemongrass and Ginger wash was designed for a fresh burst of natural energy, blended with a heart of ginger, lemongrass, black pepper, citrus and bergamot for added freshness. Supported by nutmeg and cinnamon for spicy undertones, this sensory blend is enriched by 10 essential oils—lemongrass, lemon, lime, orange, eucalyptus, nutmeg, patchouli, cedarwood, cinnamon and geranium.
Sea Kelp and Peppermint
Sea Kelp and Peppermint was made "for a moment of calmness and relaxation." This blend is comprised of refreshing top notes of peppermint, green tea and sea salt, coupled with sea kelp and underpinned by cedar and amber. The fragranced collection is bolstered by the addition of essential oils of peppermint, orange, aniseed, lemon and petitgrain, to nourish and enrich the skin.
Previously: A Delicate Dance: Mildness and Efficacy to Cleanse Compromised Skin
Rose and Geranium
The Rose and Geranium product is said to give a fragrant mood boost. The fragrance combines rose and geranium with amber and refreshing zesty top notes of lemon to "wake" the senses. This blend is also enriched by essential oils of lemon and geranium.
Oud, Cedar and Amber
Finally, Oud, Cedar and Amber is described as "aromatic and uplifting" with its woody and refreshing scent. A blend of citrus fruits with herbal notes and strong woody undertones adds depth to this fragrance. This product is enriched by lemon, patchouli and sandalwood essential oils for a high-quality aromatic experience.
Ingredients: (Rose and Geranium): Water (Aqua), Cocamidopropyl Betaine, Sodium Lauroyl Methyl Isethionate, Fragrance (Parfum), Glycerin, Peg-120 Methyl Glucose Dioleate, Guar Hydroxypropyltrimonium Chloride, Citric Acid, Allantoin, Panthenol, Lavandula Angustifolia (Lavender) Flower Extract, Rosmarinus Officinalis (Rosemary) Leaf Extract, Sodium Benzoate, Potassium Sorbate, Citronellol, Geraniol, Linalool.