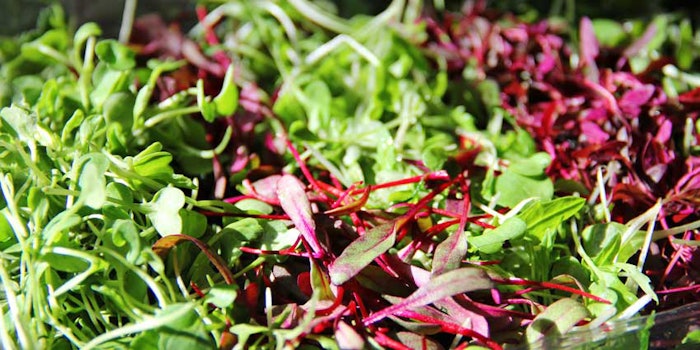 The latest trend across nutrition, foods and beverages, according to Medical News Today,  is microgreens, which are soil-grown seedlings of any herb or vegetable. These are not to be confused with sprouts grown in water and harvested after a few days' growth; microgreens require sunlight and one to three weeks of growth prior to harvest.
Interestingly, microgreens have been shown to contain more nutrients and antioxidants than their adult counterparts, suggesting a novel and renewable source for natural actives. And since industries such as cosmetics, personal care, flavor and fragrance often follow "marching orders" from foods, among others, it may only be a matter of time before they hit close to home turf.
Leading the Flavor Charge
Microgreens can range in flavor from mild or tangy, to spicy or peppery, depending on the source plant. The new food trend is to add them to salads, smoothies or sandwiches.
The most common microgreens include:
Mission: Nutrition and Antioxidants
Although further research is necessary, microgreens have been found to contain higher concentrations of nutrients than fully grown vegetables or herbs. Specifically, in a study of 25 microgreens in 2012 by the Department of Nutrition and Food Science at the University of Maryland, four sources were identified as having the highest levels of vitamins and carotenoids: red cabbage, green daikon radish, cilantro and garnet amaranth. Microgreens also have high levels of enzymes, phytonutrients, antioxidants, vitamins and minerals.
Saluting Health and Sustainability
Fruits and vegetables are not always accessible to consumers but microgreens can be grown at a low-cost at home, and sustainably. And by adding them to any dish, they not only enhance flavor and color, but can provide health benefits such as reducing obesity, diabetes, heart disease and high blood pressure.
Although more research is required to determine further health benefits, they seem like a "natural" fit for the flavor, fragrance, cosmetics and personal care markets.