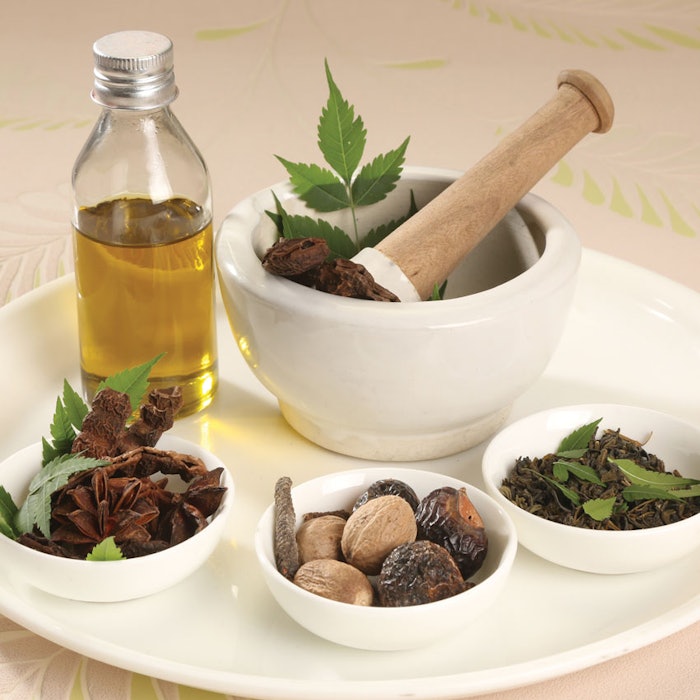 Editor's note: This article is a continuation from Part I, which appeared in the March 2016 edition of Cosmetics & Toiletries.
Applying Ayurveda
For centuries, Western cultures have been attracted to Indian spices and herbs. The medicinal properties and traditional uses of these and other ayurvedic pharmacopeia and folk medicine ingredients have been studied, and findings support for the empirical knowledge contained in ayurveda.1, 2
Ayurvedic principles can be used in today's cosmetics in a number of ways—whether this means products based on actives of ayurvedic origin, or products addressing concerns of given doshas. For example, many Indian plants are used in modern medicine to treat acne, pigmented skin, premature aging, scars, skin sensitivity, dehydration, dark circles, enlarged pores, dandruff, hair damage, hair loss and alopecia.
The ingredients selected for these formulations have specific curative properties, and at the levels used in cosmetics, have a long history of safe use without causing harmful or irritant reactions. Many, in fact, help to soothe the skin and cure inflammatory conditions. They also promote the capacity to absorb products, influencing the skin and scalp at the cellular level and helping to improve normal functions and restore balance.3-7 In addition, floral and herbal extracts can help to calm the nerves and induce relaxation.
Here, examples are given in general product categories where imbalances might be addressed using ayurvedic approaches; specific extracts or herbs for given benefits are described in the next section.
Skin care: Skin is the body's biggest organ, and as stated, any imbalances impact it. Acne, dryness, wrinkles and scars are the result of deficiencies that can be addressed by various extracts or herbs.
Hair care: Hair care is an especially important area of concern. The presence of harsh surfactants and dyes in shampoos and hair color, respectively, can damage the hair and scalp. In addition, these products can contain cationic surfactants that are not easily biodegradable and hence harm the environment. Again, the proper selection of ayurvedic herbs can address problems such as hair loss, premature graying, dandruff and dryness.
Color—lips: Lipsticksa rich in ghee and other natural vegetable oils and butters moisturize the lips, protect against dryness and maintain lips' suppleness. Further, the colors used therein are of mineral origin, so the lipsticks are all-natural, which adheres to ayurvedic tradition.
Color–eyes: Kajal itself is grounded in ayurveda. It is made from a traditional recipe where vegetable oil is burnt overnight in a lamp and the soot is collected in the morning. This soot is then mixed with ghee and applied to the eyes, to protect them from heat and dust—as well as add cosmetic mystique. Note that, as a previous article discussed,8 kajal is not the same as kohl, which had previously raised safety concerns.
Plant-derived Ingredients
As explained in part one, ayurvedic ingredients are chosen according to their ability to increase or reduce specific doshas. They are remarkably versatile and can have combinations of effects, allowing the entire scope of a problem to be treated. For instance, a particular herb may cleanse the skin, restore the normal acid-alkaline balance, and impart germicidal and soothing effects. Thus, the properties of the chosen herb must relate to an individual's needs.
Herbs and natural substances also help to promote the elimination of toxins, wastes and dead epithelial cells, thus encouraging the regeneration of new cells. This, in turn, helps to preserve the youthful qualities of skin.
The aging process can be hastened by many factors, among which exposure to sunlight is the most significant. Chemical pollutants, artificial heating and cooling, chlorinated water and alkaline soaps can also trigger signs of aging—not to mention neglect or the harsh treatment of the skin. All such assaults cause the skin to become dry, lose its resilience and wrinkle easily.
Thankfully, nature is not only an expert chemist but the best cosmetologist. And an entire range of topical products with preventive and corrective actions exists in nature.
Neem: Neem (margosa) is a versatile tree, every part of which is used for healing purposes.9, 10 Neem leaf infusions have been used to cure skin diseases and are still used to relieve itching, soothe rashes, provide a germicidal environment and clear inflammatory conditions. Neem contains organic sulfur compounds, which have powerful and versatile healing actions.
Henna: Henna has its basis in the ancient dyeing method, before chemical dyes and colorants were known. Apart from imparting color, henna has proven to be an effective natural conditioner. This is due to its ability to coat each hair shaft, lending strength, body and shine to the hair.11, 12
Henna has been combined with other herbal extracts including Aegle marmelos (bael), Emblica officinalis (amla), Centella asiatica (brahmi), arnica, hibiscus and more to formulate hair cleansers, tonics, rinses, nourishers, etc. These preparations help to revive damaged hair, promote hair growth and maintain the health of the hair and scalp—apart from controlling dandruff and other problems.
Emblica officinalis (amla): Amla or Emblica officinalis, also known as Indian gooseberry, is another popular ingredient. The ancient physician Charaka referred to amla as a medicine that delays aging due to its high vitamin C content, which is also reportedly so stable that it is heat-resistant. Amla has been used in tonics, oils, cleansers and conditioners for hair care to treat dandruff, seborrhoea, alopecia and general hair loss.
Trifala: Trifala is a combination of three herbs and has varied uses, from toning the scalp and curing eye ailments and digestive disorders, to soothing cough and inflammation. It consists of amla, Terminalis chebula (haritaki) and Terminalis belerica (vibhitika).
Bilva and brahmi: Aegle marmalos (bilva)13-15 and Centella asiatica (brahmi) have been used in hair care for various benefits. Bilva helps to control the Vata dosha via relaxation. It addresses hair dryness and treats inflammatory conditions. Brahmi has a calming effect as well.16, 17 Also referred to as Indian pennywort, it is well-known for its ability revitalize the health of hair, e.g., shine, softness, etc., and to treat hair conditions associated with stress—i.e., alopecia and general hair loss—in part due to its relaxing fragrance.
In relation, amla, Acacia concinna (shikakai), Sapindus trifoliatus (reetha), Eclipta alba (bhringaraj) and Hemidesmus indicus (anantmul) are also used in tonics, oils, cleansers and conditioners to treat dandruff, seborrhoea, alopecia and general hair loss.
Sandalwood: Sandalwood is one of the most popular cosmetic ingredients used in India. It has been cited in ancient texts as far back as the 5th century B.C. It has powerful germicidal and antiseptic properties, while its exotic fragrance is said to relax the mind.
Sandalwood soothes all types of skin and heals inflammatory conditions. Creams have been formulated with sandalwood to protect skin from pollutants, sun exposure, dehydration and skin sensitivityb, c. Also, due to its > 90% sesquiterpenic alcohol content, alpha-santalol shows anti-aging and rejuvenating effects. Furthermore, sandalwood oil and extracts have been used in light moisturizers and lotions, rich body shampoos, massage oils and after-shave creams. In fact, the gentle action of sandalwood makes it ideal for baby care products, soothing and preventing prickly heat and other rashes.
Tulsi or holy basil: Tulsi18-20 or holy basil has so many medicinal uses that it traditionally was venerated and worshipped. Modern research has revealed it helps to purify the air, apart from its soothing and curative actions on the skin and scalp.
Rose oil: Rose oils and extracts21-23 are also common beauty aids. In fact, rose oil originated in India and was used for centuries for its healing benefits and fragrance. The fragrances of rose, sandalwood, brahmi and others are said to have a soothing and relaxing effects on the nerves. Rose even was used as an anti-depressant during ancient times. Today, science knows that a relaxed mind is a prerequisite to healthy skin and hair because mental stress can trigger problems such as acne, alopecia and general hair loss.
Rose is suited to all skin types and has a refreshing effect. It imparts powerful rejuvenating properties, improves skin texture and soothes inflammation. It also can assume the role of a cleansing lotion to remove dead skin cells, and benefits the delicate skin around the eyes, reducing puffiness and fatigue.
Aloe vera: Cleansers containing powerful moisturizers such as Aloe vera have been formulated to remove impurities without disturbing the skin's moisture balance. They also improve the skin's ability to restore the normal acid-alkaline balance. Aloe vera is also known to help cell renewal. During ancient times, it was used to heal cuts and wounds, as it speeds up the skin's cell renewal. Today it commonly is used to heal sunburn and formulated into cleansers and protective creams.
Other skin stimulators: Lemon, Withania somnifera (ashwagandha), turmeric, rose and others also have been used to formulate cleansers and protective creams for skin. Similarly, almond, wheatgerm, lavender, jasmine, balsam and sesame form nourishing emollient creams. Wheatgerm oil in particular is rich in vitamin E and helps to protect the tissues from degeneration. Almond is ideal for the delicate skin around the eyes, keeping it free from wrinkles and dark circles. In most cases, these vitamin- and mineral-rich extracts benefit the skin by increasing blood flow and restoring damaged capillaries.
Natural sunscreens: Aloe vera, sesame seed, sunflower oils and even sandalwood are also known for sun protection properties.24-26 Such natural sun filters have been used in sunscreens, along with natural rehydrants and humectants.
Metals and Gems
Apart from plant products, ayurveda also uses metals and gems for healing. These have been incorporated in formulations mainly due to their age-control properties. Among them are gold, diamonds, gems and powdered pearlsd, e.
Conclusion: Parts I and II
The demand for naturally based and environment-friendly products is growing the world over, and as indicated,27 this presents a ripe opportunity for the rapid growth of ayurvedic cosmetic product introductions. However, the current lack of standardization, documentation and quality controlare some key issues this industry will face. In fact, chemical adulteration, in and of itself, negates the value and USP of these products. However, once all these aspects are "in balance," ayurvedic cosmetology is a system that can bring out the clear, glowing skin in consumers and provide true inner happiness and relaxation.
References
(All websites accessed March 17, 2016)
http://monographs.iarc.fr/ENG/Monographs/vol82/mono82-6A.pdf
http://citeseerx.ist.psu.edu/viewdoc/download?doi=10.1.1.302.2502&rep=rep1&type=pdf
http://herbalbeautycare.in/aboutus.html
www.iamj.in/images/upload/138_142.pdf
www.ayurda.com/ingredients.htm
www.shahnaz.com.au/index.php?op=left_content&id=2
www.baidyanathlifesciences.com/clinicresearch/?p=287
www.cosmeticsandtoiletries.com/formulating/category/ethniccare/Traditional-and-Modern-Indian-Color-Cosmetics--322960491.html
www.natureneem.com/index_fichiers/Neem_in_health_and_cosmetics_fields.htm
www.stylecraze.com/articles/amazing-benefits-of-neem-oil-for-skin-and-hair/
www.makeupandbeautyhome.com/2013/08/my-homemade-natural-henna-powder-recipe.html
www.thehealthsite.com/beauty/henna-herbal-home-remedy-for-beautiful-hair/
http://easyayurveda.com/2012/11/26/bael-benefits-full-ayurvedic-description-about-root-fruit-and-stem/
www.evaidyaji.com/Ayurvedic/Ayurvedic%20Herbs/Bilva
www.astropeep.com/ayurveda-and-astrology/bael-tree-bel-tree-wood-apple-tree-bilva-leaves-bel-patti-ayurved-aur-jyotish/
www.ayurvedacollege.com/articles/students/Brahmi
www.ayurvedictalk.com/brahmi-oil-indian-pennywort-oil/1824/
http://enchantingrivulet.blogspot.in/2013/10/holybasil-tulsi-air-purifier-energizer.html
www.cosmicconscious.in/2015/06/benefits-of-holy-tulsi-basil-leaf.html
http://hubpages.com/health/Amazing-Holy-Basil-Tulsi-Cures
http://metro.co.uk/2013/10/09/beauty-rose-oil-skincare-to-make-your-complexion-bloom-4139404/
http://food.ndtv.com/beauty/10-benefits-of-rose-water-you-need-to-know-1239785
www.gaiahealthblog.com/2012/09/13/the-benefits-of-rose-water/
http://wellnessmama.com/2558/homemade-sunscreen/
www.annmariegianni.com/10-natural-sun-protection-herbs/
www.womenfitness.net/beauty/skin/sun_protect.htm
www.bharatbook.com/beauty-personal-care-market-research-reports-342985/india-ayurvedic-cosmetics-
market-opportunity-analysis-2018.html