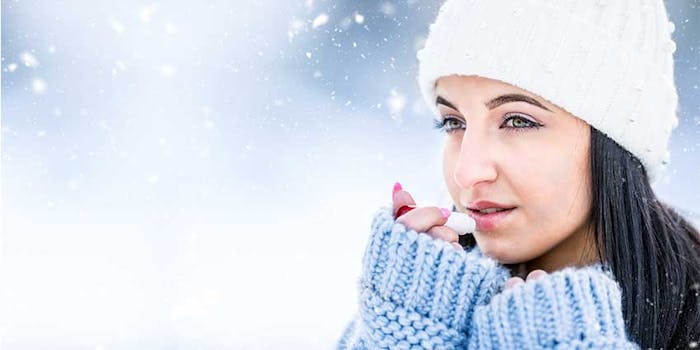 ID 136064383 © Marian Vejcik | Dreamstime.com
Winter frost has been dominating the United States over the past few weeks. States such as Texas have experienced unexpected temperature drops, and these sudden changes can affect the body in a variety of ways. Colder and drier weather, for example, can cause the already thin skin of the lips to become dry, cracked and flaky.
Featured: Lip Balm Formulas
This condition is also known as Cheilitis sicca and often presents with fissures or desquamation of the lips; usually the lower lip. The addition of lip-licking can further cause excessive irritation and dryness.1 It is important to note that weather is not the only cause of chapped lips. A condition called contact cheilitis may also underly irritated and inflamed lips. This may be due to allergic reactions to a particular ingredient, in which case it is important to perform patch testing.2
As previously stated, lip skin is much thinner than that on the rest of the face, which as most readers know, gives the lips their red/pink tone. This red/pink tone is due to small capillary vessels beneath the skin showing through these areas of less keratin and more translucent tissue.
Also due to this thin skin, the lips contain low amounts of natural emollients and hold considerably less water than other areas of the body. These factors make the area more sensitive and allow the lips to become more easily dry and chapped. As such, it is important to keep the lip skin hydrated and to prevent water loss from the lips.
Related: ChapStick's First Tinted SPF Lip Balm
The use of lip balms can help to prevent dryness. Lip balms containing SPF can additionally protect against UV damage, along with preventing the recurrence of herpes simplex, commonly known as cold sores, since they are photo-reactive viruses.3
Structuring Agents
When formulating lip balms, waxes are a vital ingredient, especially for products in a stick dosage form. Waxes function as structuring agents that allow for solidity, rigidity and molding into the desired shape.
It is important to combine different types of waxes to optimize product performance. Testing different wax to oil ratios will ensure that the product remains solid at room temperature but melts at body temperature. Waxes also can impart a variety of properties such as shine, flexibility, melting point, plasticity and breakability. Some popular waxes found in lip balms include microcrystalline, beeswax, candelilla, carnauba and synthetic wax.
Butters can also act as structuring agents when combined with emollient type properties, explained below. Butters can be a vital to ensuring the stick melts at body temperature. Example butters used include shea, avocado, cocoa and jojoba.
Emollients
Emollients are used to replace lipids lost from the lips by filling their void, and providing protection and lubrication. Oils impart hydration and can help to create the right texture and aesthetics on the lips. Key properties of emollients include imparting slip, softness, suppleness and shine. Examples of emollients include sunflower, safflower, almond and meadowfoam oils; triglyceride; isopropyl myristate; and ethylhexyl palmitate.
Related: Kao Identifies Occlusion as Key to Improving Lip Texture
Emollients can serve additional functions in lip balms. Some carry pigment dispersions for tinted lip balms; popular emollients for this purpose include polyglyceryl-2 triisostearate, octyldodecyl oleate, castor oil, mineral oil, isopropyl titanium triisostearate and octyldodecanol. In addition, silicones can be used to impart non-transfer properties; common silicones used include dimethicone and cyclomethicone.
Occlusive Agents
Occlusive agents function by forming a hydrophobic barrier to physically block and prevent transepidermal water loss. These are important ingredients to include since a main goal of lip balms is to reduce transepidermal water loss. In lip care, occlusive agents can additionally impart shine and a gloss-like finish while locking in moisture; example occlusives include petrolatum and diisostearyl malate.
Antioxidants
Since lip balm is lipid-rich, thanks to emollients and occlusive agents, it can be susceptible to rancidity. Rancidity is caused by exposure to oxygen and can cause color change and malodor. Antioxidants, on the other hand, can fight free radicals by working as reducing agents and free radical scavengers. Examples in lip balm include tocopherol, BHT and BHA.
Flavor
Flavor is clearly added to impart taste and/or fragrance (aroma) to products. Lip balms typically will have some sort of flavor added to mask the unpleasant taste of other ingredients. Common flavors include vanilla, peppermint, strawberry and bubble gum.
Preservatives
In most personal care products, preservatives are added to prevent the growth of yeast, mold and bacteria in formulations due to the presence of water. Lip balms are ester-rich, and do not necessarily require a preservative but since balms are often anhydrous with yeast, mold and bacteria, the microbial growth will typically not expand without the presence of water. However, the lips are wetted by salvia, drinking water, food residue, etc., and this moisture can come into contact with the lip balm as a potential risk for microbial growth. As a preventative measure, preservatives such as phenoxyethanol, 1-2 hexanediol and ethylhexylglycerin may be added.
Conclusion
Dry and chapped lips are not limited to colder and drier weather, although it can be a factor, and anyone at any time can experience can experience the discomfort of dry, chapped and flaky lips. As such, it is important to help repair the lipid barrier of lips by providing proper nourishment through a variety of emollients and occlusives.
Previously: Read the Label: FRUU.. Cosmetics Cherry Lip Balm
In addition, waxes and butters can ensure the product is delivered in a pleasing manner to ensure a positive user experience. Finally, curating that perfect wax to oil ratio will help to create an optimal product that meets consumer needs.
References
1. Lugović-Mihić, L., Pilipović, K., Crnarić, I., Šitum, M. and Duvančić, T. (2018, Jun). Differential diagnosis of cheilitis—How to classify cheilitis? Acta Clin Croat 57(2) 342–351. https://doi.org/10.20471/acc.2018.57.02.16
2. Dyall-Smith, D. (2010). Allergic contact cheilitis. DermNet NZ: All About the Skin. https://dermnetnz.org/topics/allergic-contact-cheilitis/#:~:text=Allergic%20contact%20cheilitis%20is%20allergic,outer%20lip%20or%20vermilion%20margin.
3. Baki, G. and Alexander, K.S. (2015, Mar). Introduction to cosmetic formulation and technology. Wiley. https://www.wiley.com/en-us/Introduction+to+Cosmetic+Formulation+and+Technology-p-9781118764893