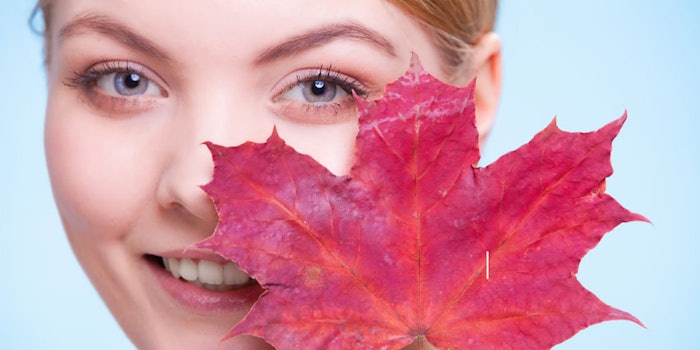 IFF Lucas Meyer Cosmetics's (LMC's) strategic investment last summer in Bio Forextra, a Canadian R&D lab specialized in sustainable cosmetic actives and botanical extracts, has turned over a new leaf for the company—literally. As of October 2017, LMC began distributing Bio Forextra's Borēaline line of products derived from red maple, black spruce and other forest-sourced ingredients.
The line includes three products:
Borēaline Expert (INCI: Glycerin (and) Acer Rubrum Extract), a red maple extract rich in polyphenols, for anti-aging and anti-wrinkle benefits;
Borēaline Protect (INCI: Glycerin (and) Picea Mariana Bark Extract), a black spruce extract containing concentrated trans-resveratrol, for photo-aging protection; and
Borēaline Hydra (INCI: Glycerin (and) Picea Mariana Bark Extract (and) Acer Rubrum Bark Extract (and) Betula Alleghaniensis Bark Extract (and) Pinus Bank Banksiana Bark Extract), a complex of four bark extracts that provides lasting hydration via aquaporin-3 gene expression. 
According to the company, the addition of these sustainably sourced actives, from the Boreal Forest of Canada, well-aligned with its strategy to offer fully differentiated ingredients to its customers.
Borēaline Expert, in particular, is receiving new attention for its role in the circular economy based on recycled sourcing. This ingredient also has been shown to increase skin firmness and elasticity, and to reduce the appearance of wrinkles.
Specifically, according to the company, 94% of test subjects saw positive reductions in signs of aging after 14 days of use. After one month, a 22% reduction in wrinkle depth was observed. It appears to a successful hybridization of natural, sustainable resources with proven efficacy.