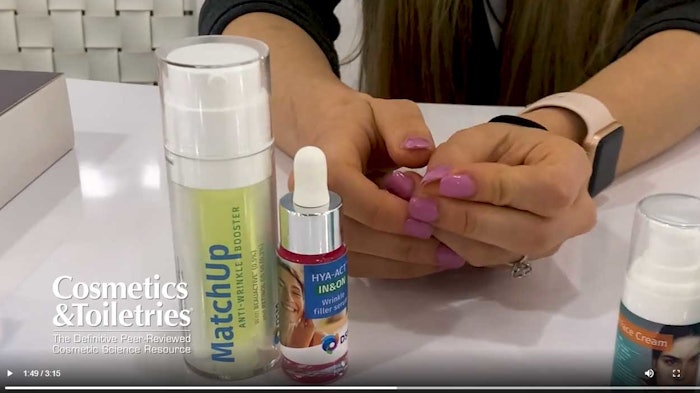 Concepts in sustainability, sun protection and care, clinical anti-aging, and hair/scalp care were the focus of DSM Nutritional Products during NYSCC Suppliers' Day. In this video throwback, Luciana Uttembergue D'Elia, senior technical marketing manager for the company, explains.
"For sustainability, we're showcasing our Alpaflor line, derived from flowers in the Alps," she said. Uttembergue D'Elia highlighted new data for Alp-Sebum CB (INCI: Epilobium Fleischeri Flower/Leaf/Stem Extract), microbiome-targeted prebiotic to balance skin sebum.
In addition, Alpaflor Edelweiss CB (INCI: Leontopodium Alpinum Flower/Leaf Extract) demonstrates antioxidant and DNA-protection properties in skin, for anti-glycation effects, and it has been shown to improve hair density and reduce hair graying. In relation, the company's Stimu-Tex AS, combining high quality spent grain wax, cold-processed argan oil and shea butter, also soothes irritated skin.
For sun care, featured from its Parsol line were DSM's Parsol ZX (zinc oxide) and TX (titanium dioxide) mineral sunscreens. "These can be combined for optimum performance and low white cast," noted Uttembergue D'Elia.
For clinical anti-aging performance, the Hya-Act ingredient was highlighted, which blends three forms of hyaluronic acid. And the MatchUp retinol booster combines a biotechnology with retinol for a collagen boost 5x that of retinol alone, according to Uttembergue D'Elia.
Lastly, in hair, Tilamar Boost 150 was highlighted for boosting volume; it was demonstrated in a solid shampoo format. For both hair and scalp, Pentavitin was presented as a 100% natural ingredient to reduce sebum and scalp flaking while delivering moisturization.
Watch now to learn more: