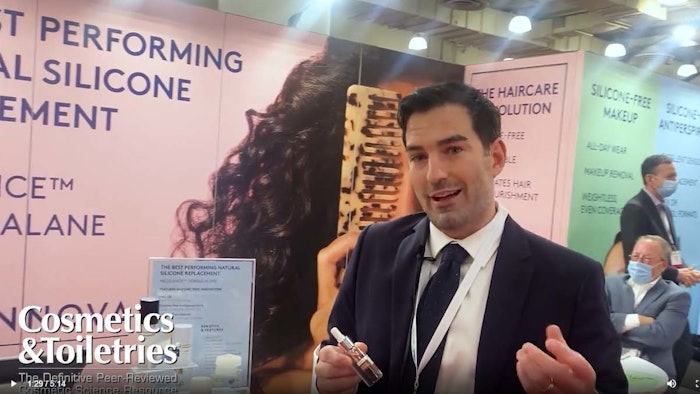 Sugarcane-derived Neossance Hemisqualane (INCI: C13-15 Alkane) was presented during NYSCC Suppliers' Day as a sustainable, sensorial alternative to silicones. In this video throwback, John Toner, director of marketing and innovation for Aprinnova, describes the material's performance across a range of applications; from hair care and deodorants, to color cosmetics.
See archived: Comparatively Speaking; Volatility and D5 Replacements
In terms of hair care, Toner highlights a hair oil featuring the ingredient that penetrates the hair shaft, nourishing and repairing hair from within. Also showcased is the ingredient's incorporation throughout the JVN Hair brand product range, including shampoo, conditioner, scalp oil and leave-in conditioner. The ingredient additionally can replace silicone in stick and spray deodorants, foundations and makeup removers. 
"We're looking forward to helping brands make a transition to more sustainable, high performance cosmetics," said Toner. 
During the event, Aprinnova also launched its augmented reality clean beauty app as a "living booth," demonstrated here, to engage product developers in learning more about sustainable/renewable strategies. Watch now to learn more.