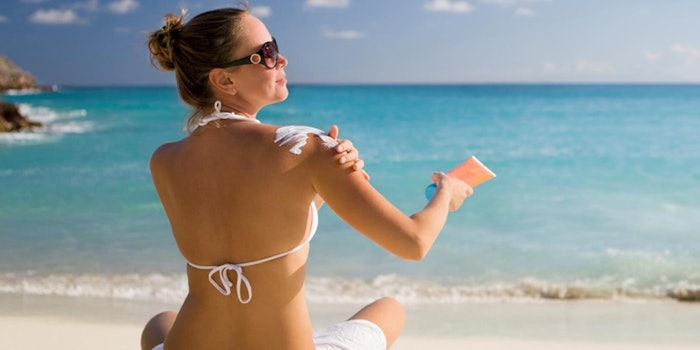 Gattefossé
Featured: Shadowing Plants: Phytochemicals for Sustainable Sun Protection, A Commentary
This work is an extension of a 2019 study, wherein Gattefossé evaluated the impact of the composition and texture on the duration of sunscreens during the day. The company found that vegetable wax derivatives could improve the durability of the protective UV film, and that w/o emulsions delivered longer protection than o/w ones.
The company notes that although the previous results were informative, the study was performed on bare skin. And a typical daily beauty routine includes layers of products. As such, seven tests were performed in the present study using different moisturizer and film former layer combinations with the same sunscreen—an o/w emulsion containing a blend of organic UVA filters. 
Methodology
Using a UV camera with a captor sensitive to UVA, the company viewed and tracked the behavior of the UV protective film and ranked the sunscreen durability for each test. An auricular repositioning system was used to ensure the proper placement of volunteers to capture consistent images of UV absorption.
Images were acquired at four time points: before application of the sunscreen on bare skin (T-1); after application of the sunscreen (T0); 4 hr after application (T4); and after washing the skin with a cleansing gel (T4+W). A specific parameter was measured to quantify the endurance of the sunscreen on skin, correlating to its durability and ease of rinsing. 
For sensory tests, an in-house expert panel evaluated the sunscreen layer, focusing on eight different sensory criteria during the application and after absorption.
Results
In terms of the most durable products that were easiest to rinse, a sun care product applied on top of an o/w moisturizer containing a film former performed better than all other product combinations and the sunscreen alone.   
Regarding sensory characteristics of the sunscreen, the results were broken into categories of layer combinations:
When applying sun care on top of a moisturizer, the sun care product was greasier, shinier and tackier, and easier to spread than sun care alone. 
When adding a film-former to the moisturizer only, the residual film, greasiness and soft after-feel improved while the tacky after-feel worsened.
When there was a film-former in both the sunscreen and moisturizer, the residual film and greasiness were lower despite the higher tacky after-feel. 
According to the company, this test methodology could be used alongside consumer tests to aid in the development of efficient product combinations for improved sensory and UV protection.
Previously: Gattefossé's EleVastin Supports Skin Elasticity by Fighting Gravity