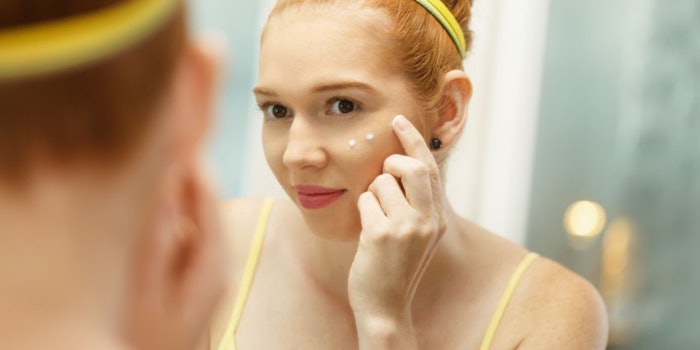 Following its efficacy-first approach to naturals, Burt's Bees presented research during the virtual Integrative Dermatology Symposium proving the effects of bakuchiol and turmeric to defend and restore healthier-looking skin.
More specifically, the anti-aging and anti-inflammatory properties of bakuchiol, a natural and gentler alternative to retinol, were demonstrated in skin, as was the efficacy of a natural lip balm containing turmeric for its benefits in dry or compromised lip conditions.
Bakuchiol's Retinol-like Activity
According to the company, research indicates bakuchiol regulates gene expression in a retinol-like fashion, imparting equivalent effects naturally. In relation, the present studies explored the in vitro effects of bakuchiol on the UVB-induced inflammatory markers IL-1α and PGE2 in a skin model, and in vivo effects on hydration parameters as measured by corneometer, evaporimeter, expert grader and self-assessment. 
Results in vitro showed a topical treatment with 5% and 1% bakuchiol active significantly reduced the release of IL-1α in pre-treated tissues but not post-treated tissues. At 5% and 1%, the active significantly reduced PGE2 release in pre-treated tissues; at 1%, the test active also reduced PGE2 release post-treatment.
Furthermore, in vivo, the topical use of 1% active in a cream for 4 weeks significantly improved all investigator-graded efficacy parameters including skin smoothness, clarity, radiance and overall anti-aging benefits. No significant tolerance issues, except skin tightness, were reported by subjects. In addition, topical use of 1% active in a cream for 4 weeks significantly improved skin hydration, and no change in barrier function was observed.
See related: Could Bakuchiol Be Retinol's Match?
Turmeric's Antioxidant, Anti-inflammatory Effects
A separate study sought to determine the in vitro antioxidant and anti-inflammatory effects of turmeric in a lip balm formulation as well as it in vivo benefits. In vitro, the effects of the test formula against UVA-induced ROS formation were measured in a skin model after 15 min, 30 min and 45 min exposures. In addition, tissues treated with the formula for 24 hr prior to UVB exposure were assessed for the release of  IL-1α and PGE2. 
In vivo, 38 female subjects, 22-45 years of age, exhibiting moderate to severe lip dryness applied the test product and were assessed at baseline and days 3, 7 and 14 for lip hydration by corneometer; for lip dryness, fine lines, texture and sealing by an expert grader; and for overall appearance by clinical photography and self-assessments. 
Results of the in vitro studies showed the turmeric formula significantly reduced the formation of ROS at all three time points. Also, the test product significantly reduced the release of PGE2; IL-1α was not reduced. Finally, the test turmeric product significantly increased lip hydration; significantly and progressively improved fine lines and lip texture at days 7 and 14; and reduced slip dryness and scaling at all intervals. 
"At Burt's Bees, our research and data are at the center of all that we do," said Hemali Gunt, Ph.D., Head of Clinical and Scientific Affairs at Burt's Bees. "The results from our latest studies further support the proven power of nature-based ingredients in skin care, providing valuable insight into the efficacy of bakuchiol, a natural retinol alternative, and the potent antioxidant-rich botanical turmeric.
She added, "Scientific evidence suggests a rise in inflammatory skin conditions, which is likely to be exacerbated by consistent mask wear paired with the approaching winter months. Bakuchiol and turmeric are proven to be powerful yet gentle nature-based ingredients that are key to helping to improve the condition of the skin and lips."