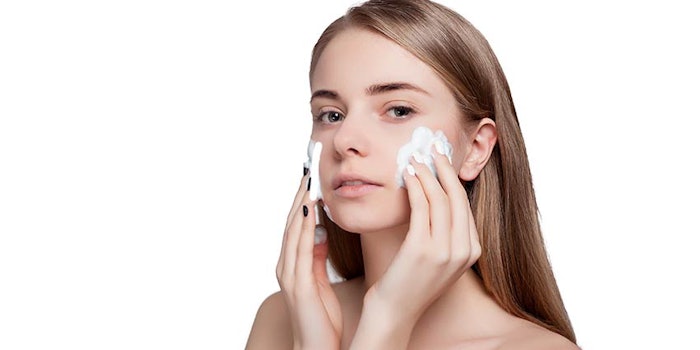 Woman with black and white nails applying foam skin care
Topical antibiotics may be on the way via a new foam application to alleviate moderate-to-severe acne. Foamix Pharmaceuticals' minocycline treatment is currently in testing and regulatory stages, but, if approved, would be the first of its kind accepted by the U.S. Food and Drug Administration (FDA), according to the company.
Related: Consumer Demand for Acne Treatments Surges
Minocycline can be prescribed orally to treat acne; Foamix's topical product, FMX101, is meant to reduce inflammatory acne lesions without the potential systemic side effects of oral antibiotics. The company submitted a New Drug Application to the FDA in December 2018.
Clinical Testing
Foamix has completed three Phase 3 clinical trials on FMX101's efficacy. In the most recent, researchers observed the percentage of inflammatory acne lesions between treatment and vehicle groups to be significantly different; at week 12, the FMX101 treatment group experienced a reduction of 56%, while the vehicle group experienced a 43% reduction. 
Noninflammatory lesions also experienced statistically significant improvements after usage; compared to the baseline measurement, the FMX101 treatment group's noninflammatory lesion count was -18.83 while the vehicle treatment group's was -15.67.
The testing also measured dermal tolerability of the product by rating the severity of itching, skin peeling, erythema, hyperpigmentation and dryness, with a score of 0 = none; 1 = mild; 2 = moderate; and 3 = severe. At week 12, greater than 95% of scores were 0 or 1. 
".... The strong body of clinical data on FMX101, including the results from this most recent Phase 3 trial, suggest that it may offer patients an efficacious treatment in a convenient and safe topical foam formulation. I believe that, if approved, it has the potential to address a significant unmet need in this difficult to treat condition," commented principal investigator Edward Lain, M.D., chief medical officer, Sanova Dermatology, in a press release.