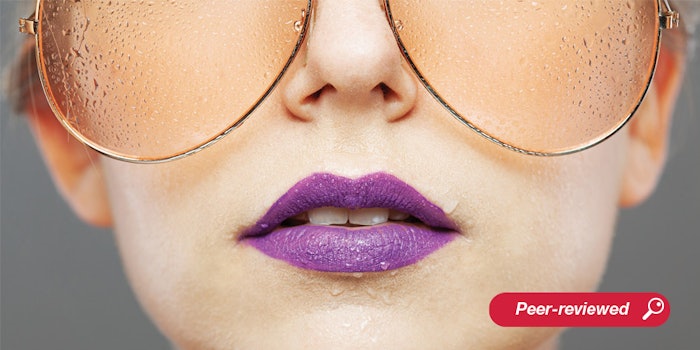 Read the full article in the November/December 2021 digital edition. . .
Lasting effects have become a basic requirement for cosmetic consumers. To achieve this property, lip products must impart water resistance, as the lips come into regular contact with saliva, water (while drinking), etc. Sensory testing commonly has been used for this evaluation but it is not easy to test samples on the same basis due to variable skin and environmental conditions.
Waterproof properties can be used as an indicator of the colorfast effects of lip gloss. This was established in the 2005 European Cosmetic, Toiletry and Perfumery Association (COLIPA) guidelines for determining the sun protection factor for water-resistant products.1 Laneri, et al., also applied lip gloss samples to the forearms of subjects and measured the L* variable before and after immersion using a handheld colorimeter. These researchers confirmed the L* value could verify the waterproof effects of lip gloss.2
The present work proposes an alternative method adapted from COLIPA guidelines to evaluate the waterproof efficacy of lip gloss using a spectrophotometer and L* values. This method reduces the involvement of human volunteers and allows for the easier comparison of products. It also responds to increasing interest in using in vitro methods because they are generally less time-consuming, more cost-effective and give additional information; e.g., critical wavelength.
. . .Read more in the November/December 2021 digital edition. . .
References
COLIPA (2005). COLIPA Guidelines for Evaluating Sun Product Water Resistance. Available at http://www.colipa.com
Laneri, S., Di Lorenzo, R., Sacchi, A. and Dini, I. (2019). A new protocol to evaluate waterproof effect of lip gloss. Biomed J Sci & Tech Res 19(5); BJSTR. MS.ID.003376.