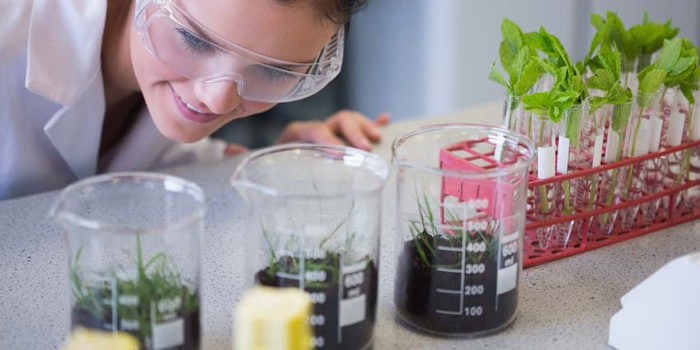 'The Cosmetic Victories' contest was organized by Cosmetic Valley to reward and promote innovative projects related to perfume and cosmetics. Here, we highlight finalists Frédérique Cauzac, Ph.D., and Valerie Reynaud, of BioCorium.
Note: Finalists were chosen in February 2020 and winners are expected to be announced this autumn (details forthcoming).
What is your innovation? How is it used?
Our innovation is our process of phyto-fermentation by biodiversified ferments, extracting and translating plants into bioavailable nutrients for skin. We have developed our own consortium of ferments, prokaryotes and eukaryotes that grow in symbiosis. This consortium can process the plant to obtain active extracts containing nutrients with their natural environment. This symbiosis allows the ferments to control and protect each other, and to adapt to the plant.
The resulting extracts are 100% from natural origin since we use plants (preferentially organic) and ferments from natural and vegetal origin (of course, no GMOs). We develop aqueous liquid phyto-fermented extracts that can be easily included in emulsions or aqueous gels or lotions, and phyto-fermented plant powders for dry or waterless cosmetics.
What is novel about it? How might it shape the cosmetics and personal care market? How would you market it to consumers?
There are three key points to consider regarding the novelty of our phyto-fermentation innovation:
It has advanced the microbiological extraction of plants to 100% natural, 100% sustainable and 100% efficient. Ferments are created by selecting the right biochemical tools to extract nutrients from plants and make them available for themselves. As noted, only natural raw materials, from our ferments to plants through all inputs, are used. Our operating conditions are low energy-consuming, based on only mild temperatures and clean atmospheres. The resulting outputs can be used in cosmetics, liquid extracts or plant powders and, if released into the environment, they will have a positive impact. Finally, our extracts present interesting biological activities.


Phyto-fermentation is also a global biological approach; any biological reaction, throughout life in the living world, needs an active entity (e.g., enzymes or receptors) and a substrate. However, the environment is essential too: pH, ionic strength, minerals, trace elements, vitamins, sugars, cofactors… Our phyto-fermented plant extracts are the medium culture of our ferments, where they bioprocess the plant. Hence, they contain a wide range of compounds, each taking part in and adapting to biological mechanisms at low rates and depending on each other. Thus, plants can offer the necessary diversity of compounds to answer skin's needs.


Finally, phyto-fermentation offers proof of biodiversity and collective intelligence effectiveness. Healthy skin can be defined as balanced skin that is able to maintain its balance and to react. Skin cells and microbiota must be taken in account, too, and their needs must be filled by adequate responses. Their biodiversity, prokaryotes and eukaryotes induce various needs and answers. It also requires respect of and balance between each other. We select prokaryotic and eukaryotic micro-organisms for their wide range of biochemical tools and ability to process in both metabolisms. As noted, we developed a symbiotic consortium where each member cooperates, protects and controls other members. This consortium processes the plant, adapting its biochemical tools and releasing interesting nutrients. Biodiversity brings the efficient tools and collective intelligence organizes the process.
We translate this technology for consumers as follows: phyto-fermentation is a natural and sustainable process based on plants and micro-organisms that are renewable. It offers a holistic approach based on balance and health for skin and its microbiota by giving essential nutrients specifically decoded for them.
Our phyto-fermented plant extracts are the medium culture of our ferments, where they bioprocess the plant. Hence, they contain a wide range of compounds, each taking part in and adapting to biological mechanisms at low rates and depending on each other.
These nutrients also afford them the means to defend and to react through respecting and enhancing skin's biodiversity. Phytofermentation meets the current trends in beauty and the current customers' requirements for: clean beauty, sustainability, traceability and microbiota well-being, biodiversity, an eco-friendly approach, and plants as a source for raw materials and solution.
Where did your idea come from? (A market need? New technology?)
This is also a story of symbiosis; of ideas and skills. We have complementary competencies, from biochemistry and chemistry, to microbiology and biotechnology. Reynaud knows how powerful plant fermentation is and what its impact can be on gut microbiota. Cauzac knows that the bioavailability of active compounds is essential and can be more important than biological activity itself.
For a few years, many scientific studies have shown the key role of microbiota for skin and skin disorders. We decided to create BioCorium in 2017 to develop cosmetic ingredients from plant fermentation through an eco-friendly process. Market trends, microbiota, clean beauty and sustainability were catalysts for our project.
What product development challenges did you face in creating your innovation? What skills or technologies supported your success?
When we presented our project, we had clear ideas about how to make it and we set up our R&D lab and production unit. We experienced real interest and faced sort of a surprise and internal (unspoken) question from our interlocutors: Why not think about it and make it concrete? We presented a global and holistic approach for skin care thanks to phyto-fermentation and therefore faced the classical questions on activities. We had to demonstrate the numerous interests of phyto-fermentation in terms of activities, process, sustainability and naturality.
Our success has been based on many things. Among them are: creativity to develop new ingredients and find new ways to solve technical questions; perseverance to keep our goal and to limit the necessary compromises to develop such a project; and complementarity in technical and personal competencies. For us, the point is the same as for our symbiotic ferments: biodiversity, respect and balance in order to grow, control, protect and adapt.
What outcome do you anticipate from the competition? From your work?
We anticipate becoming more visible and reaching more people who might be interested in our approach. Our patented technology of phyto-fermented extracts is particularly dedicated to on-demand projects, and this competition is a real opportunity to present it.
We hope we have opened or expanded a new way of thinking, driving awareness that we are one part of a larger ecosystem and need to respect it. We think that our process answers current questions for respecting the environment, inventing new deposits of raw materials, and reconsidering how to make value from plants.
For more information, visit the Cosmetic Valley or Cosmetic Victories website.