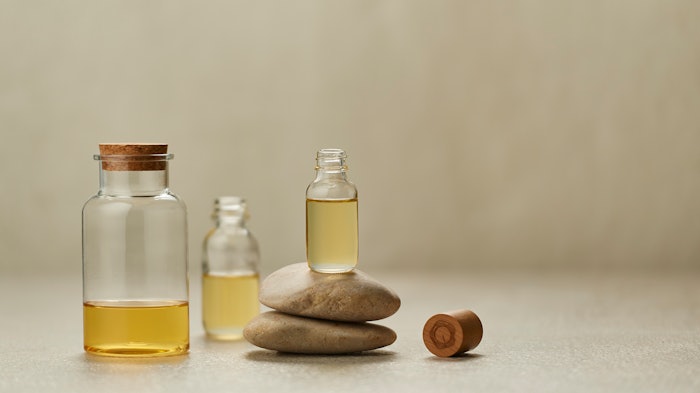 Results of a clinical study published in Cosmetics reveal Indian sandalwood effectively protects the skin against exposome-induced stress and damage; particularly that caused by particulate matter and blue light. According to the authors, these entities can penetrate the deeper layers of skin, inducing the release of free radicals and causing an inflammatory cascade the contributes to aging and exacerbates other inflammatory skin conditions.
See archived: [video] Understanding Adhesion of Pollution Particles to Skin
This study, commissioned by Quintis, tested the effects of Indian sandalwood oil at 0.1%, 1.0% and 10.0% on the levels of squalene monohydroperoxide (SQOOH), a primary oxidation product of squalene, produced in the skin after exposure to urban dust and blue light. Twenty-two healthy human subjects participated in the 11-day study.
The various sandalwood concentrations as well as a placebo and α-tocopherol control were applied to different zones on the upper backs of subjects. On Day 7, tests sites were exposed to urban dust using a controlled pollution exposure system and blue light at a wavelength of 412 nm. Sebum was sampled on each investigational zone following the last exposure. A dose-dependent decrease in SQOOH was observed in all zones treated with sandalwood oil, compared with untreated zones. See the open access article for full details.
"The clinical trial reinforces our previous peer-reviewed cellular research that found Indian sandalwood oil protects against oxidative stress in vitro," said Dhanushka Hettiarachchi, Ph.D., technical products specialist for Quintis Sandalwood. "The result in vivo showed skin oxidation to be lower when treated with Indian sandalwood oil when compared to α-tocopherol."
Hettiarachchi continued, "... Many recent cosmetic trends have focused on retaining skin health and promoting positive aging of skin when exposed to pollution and visible blue light from the sun. We are excited that this study further emphasizes the power of Indian sandalwood oil in protecting the skin against environmental damage, further proving the multipurpose nature of this precious ingredient in cosmetics."