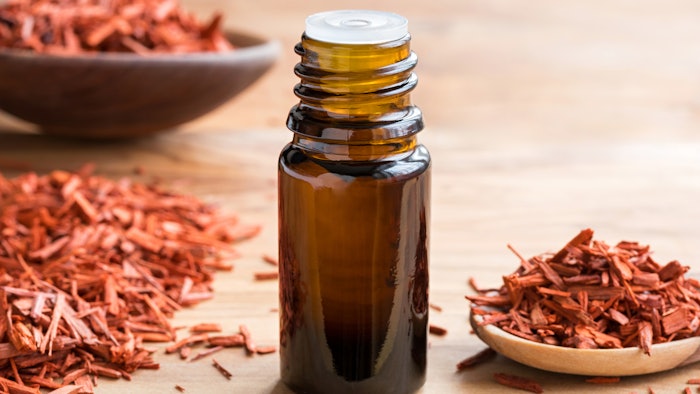 A study published in Cosmetics reveals the antioxidant and anti-aging potential of Indian sandalwood oil. Here, the authors investigated the protective and anti-aging effects of Indian sandalwood oil in scavenging ROS in HaCaT cells and in human skin explants after exposure to oxidative stress.
The stressors included a free radical-generating compound, AAPH; blue light at 412 nm and 450 nm; and cigarette smoke. The anti-aging effect in human skin explants was determined via collagenase levels (MMP-1).
See archived: Ilia Blue Light Mist Provides 3-in-1 Skin and Cosmetic Action
Exposure to environmental stressors revealed the Indian sandalwood oil possessed superior antioxidant activity in comparison with vitamin E (alpha tocopherol). In human skin explants, the Indian sandalwood oil also inhibited pollutant-induced levels of MMP-1.
According to the authors, these findings indicate Indian sandalwood oil could serve as a protective and anti-aging active in cosmetics and dermatology against environmental stressors.
See archived: Resisting Our Realm; Infrared, Blue Light and UVA-II Defense
The supplier of the Indian sandalwood used in this study, Quintis Sandalwood, observed, "Compared to all other sandalwood, what makes Indian sandalwood the most unique is that it has the highest concentration of alpha and beta santalols, containing 70-90% of the compounds." The company added that alpha santalol is said to be responsible for the therapeutic nature of the oil, and beta santalol gives Indian sandalwood its olfactory profile.
For more information, see the full open access article.