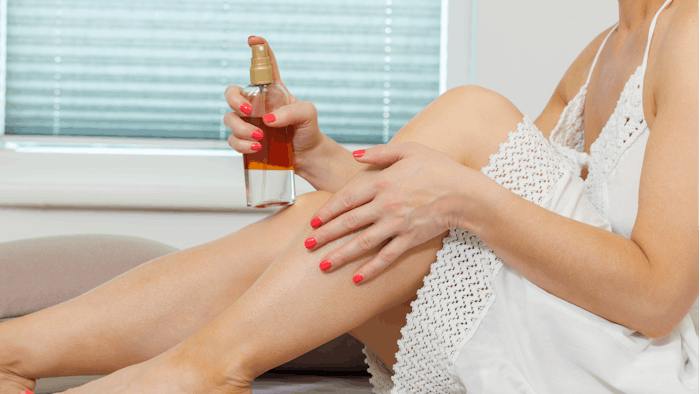 A data report from Fact.MR indicates the self-tanning products global market will surpass $1.4 billion by 2032, growing at a 4.91% CAGR from 2022-2032. Increasing consumer awareness of self-care, daily skin care routines and the risk of sun exposure are key market drivers identified in the report.
Label Challenge: Isle of Paradise's Self-tanning Butter
Also per the report, global sales of self-tanning products expanded at a CAGR of 4% from 2015 to 2021. Sales of self-tanning products decreased significantly during the COVID-19 pandemic but saw a resurgence as restrictions were lifted in 2021. The increased inclination by men to use self-tanning products and the demand for different types of self-tanning products, including lotions and gels, also positively contributed to the market's recovery.
As of 2022, self-tanning products are expected to be valued at $875 million. Within the product segment, lotions are expected to hold more than 50% of the self-tanning market share. By application, women are expected to make up more than 60% of the market share.
See archived: Soaking up the Self-tan; The Pros and Cons of DHA and Self-tanners
Europe and the Asia-Pacific region are expected to encompass more than half of the self-tanning market, with Europe expected to hold 30% and Asia- Pacific expected to make up 35% of the market share. Per the report, self-tanning product manufacturers are emphasizing sustainability and diversifying product offerings across multiple distribution channels to cater to a wide target audience.
Two significant market-related events identified in the report are Clarins launching its first virtual shop in France in October 2021 and Beiersdorf AG opening a new center in the United States in February 2022. 
See related: EU Restriction on DHA to Minimally Impact Self-tanners