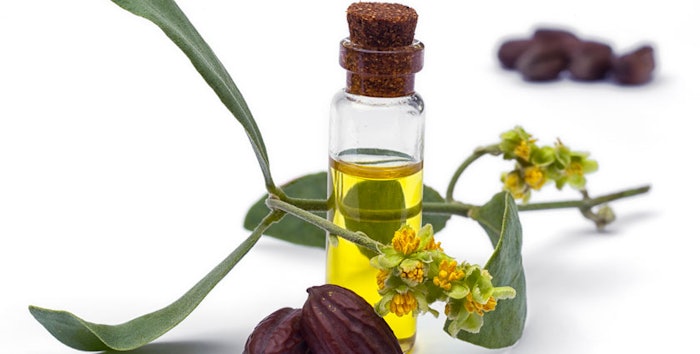 The global jojoba oil market is estimated to reach $272.4 million by 2026, according to a new report from Reports and Data.
In 2018, the market size was $87.8 million with a CAGR of 5%. 
According to the market research company, the increasing use of jojoba oil in cosmetics and pharmaceuticals globally is fuelling market growth.
The report found:
North America accounts for the largest market share (22.30%) in 2018, encouraged by the development of the male grooming industry. 
The cosmetics market is expected to grow at a CAGR of 5.0% during the forecast period. Within the market, there has been a notable increase in jojoba oil usage in sunscreens, moisturizer, lotions, skin creams, lipsticks and balm. 
Emerging jojoba oil utilization in herbal medicine and demand from the cosmetics market is expected to drive the jojoba oil market in the future. 
The "rapid" industrial growth rate in developing economies is likely to support the market size growth in the coming years. 

Jojoba oil offers a long-lasting shelf life and does not break or oxidize under tremendous pressure and temperature, making it perfect for use in several industries.
Check out the full report here.