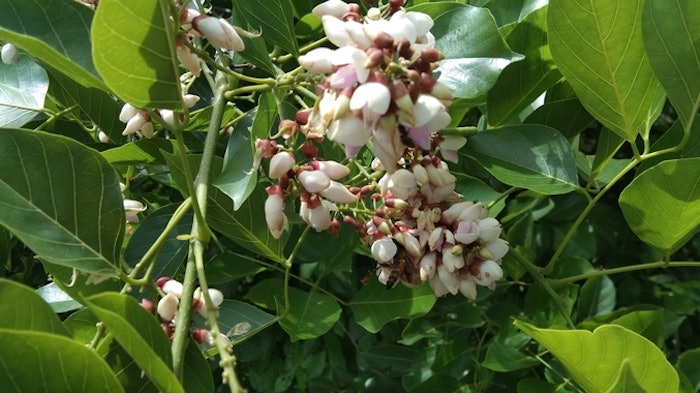 A collaboration of EverCare and Kancor — and distributed by Ultra Chemical, Assure+ (INCI: Pongamia Pinnata Seed Extract) is a high purity extract that was recently shown to boost properties of SPF and UVA-PF by 20-40%. The antioxidant is extracted from the Pongamia species using eco-friendly principles.
Related : [with formula] SC Group Debuts C. Sinensis-derived SpecPure BTS Saponins
This resource is reportedly widely available, creating a sustainable, zero-waste harvesting solution. Pressed from seeds, Assure+ is a COSMOS certified natural, photostable booster available as a concentrated solid that can be incorporated into the oil phase.
In vitro studies were performed where SPF 30 formulations were dosed with either 0.10% or 0.25% Assure+. In one example, 25% Zano 10 Plus (INCI: Zinc Oxide (and) Triethoxycaprylylsilane), a UV filter, in combination with 0.25% Assure+ achieved an SPF above 50. This demonstrated its efficacy at low concentrations. See below for a prototype formula.
According to EverCare, Assure+ increases both SPF and UVA-PF values when used in mineral only and hybrid sunscreen formulations. Use of Assure+ maintains UVA-PF to SPF ratios as well as critical wavelengths to help meet all UVA global requirements.
Mineral Body SPF 50 Sunscreen
(EverCare)