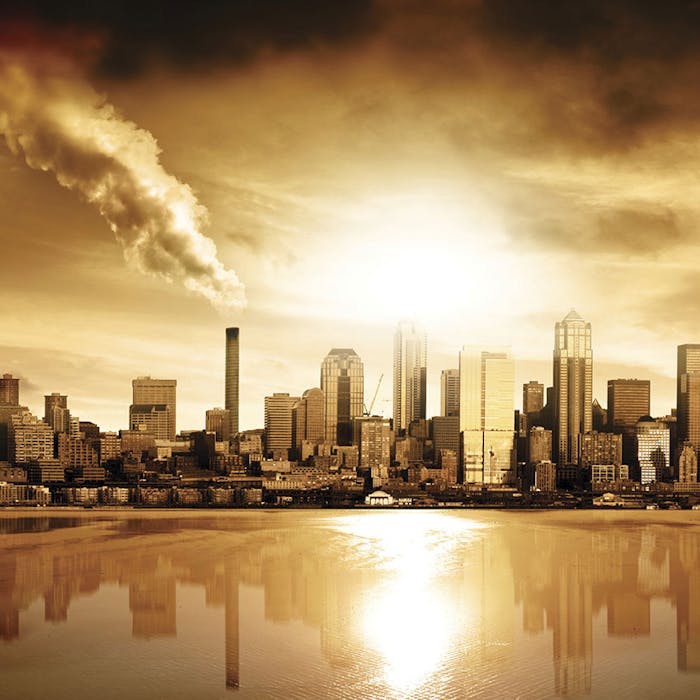 The global environment is changing. Whether you believe in global warming, climate change or neither, air pollution does not appear to be getting any better around the world—and the personal care industry is paying attention.
According to the Intergovernmental Panel on Climate Change (IPCC), "Global carbon emissions from fossil fuels have significantly increased since 1900. Since 1970, CO2 emissions have increased by about 90%, with emissions from fossil fuel combustion and industrial processes contributing about 78% of the total greenhouse gas emissions increase from 1970 to 2011."1
How is this issue impacting the cosmetics industry? Asian consumers are driving the demand for anti-pollution products, as indicated by the majority of launches occurring in Asian countries—according to research by Mintel, 38% of new products in this category were introduced in the Asia-Pacific market between January and October in 2016. European and American consumers are also beginning to recognize the impact of pollution on skin, with 14% of U.S. consumers agreeing pollution is a driving factor in their skin health.2
Consumers are looking for efficacy in the anti-pollution space as with all new beauty trends. Thus, it is expected that the opportunity for anti-pollution product introductions will grow over the next few years. However, formulating global anti-pollution products may pose challenges for three reasons: types of air pollution, ethnicity-related aging and regional consumer skin care routines.
Burning of fossil fuels, industrial processes, energy production, cigarette smoke and the use of volatile organic compounds (VOCs) are key sources of air pollution such as soot, dust, smoke, dirt and liquid particulate matter. As one can imagine, the complex mixture of these pollutants varies by region and country. Formulating a product that specifically addresses the needs of a region may be critical to the success of this type of product. To do this, the industry will need to understand the key air pollutants by region and the synergistic effects of the combinations on the skin, then formulate efficacious products accordingly.
Some consensus has been reached on the general impact of air pollution on skin. Most experts agree pollution can break down the skin barrier, exacerbating existing skin problems such as hyperpigmentation; photoaging; oily, sensitive or dehydrated skin; eczema; atopic dermatitis; and premature loss of collagen and keratin in skin. But the visible signs of pollution-induced aging may vary by ethnicity.
Formulating global anti-pollution products may pose challenges for three reasons: types of air pollution, ethnicity-related aging and regional consumer skin care routines.
Since efficacy is the driver, it will be necessary to develop regional skin care. It is believed the first visible sign of aging in Asian skin is hyperpigmentation, while Caucasian skin experiences fine lines and wrinkles. A few studies have been conducted to ascertain the impact by ethnicity but no consensus has been reached as to the cause and effects of pollution on specific skin types. Controlling for the effects of UV-induced photoaging, the synergistic effects of regional-specific air pollutants and the absence of well-developed test methods will be a challenge for ethnicity-related research in the future. This, of course, will also impact claims substantiation across all product categories.
The variation in regional skin care routines will also drive new product introductions and key marketing initiatives. It is well-established that Asian consumers prefer a multi-step, personalized skin care regimen. Whitening, UV protection and moisturization will be the primary purchase drivers for this region.
In Europe and North America, consumers prefer simple two or three-step skin care routines that emphasize science-based, anti-aging and natural product claims. The trend for natural beauty and healthier products is a significant driver for growth across all categories.
One thing is certain—as awareness of the link between air pollution and premature aging of the skin grows, opportunities for anti-pollution raw materials and products will be the future of this industry.
State of the Issue
Many major cities in Asia, as reported by various media outlets, seem to be suffering the most from air pollution. Yet western cities like Paris, London, Los Angeles, Mexico City and Rome are also seeing a rise in smog and air pollution. The U.S. Environmental Protection Agency (EPA) reported, "In 2011, the top carbon dioxide (CO2) emitters were China, the United States, the European Union, India, the Russian Federation, Japan and Canada." This further reinforces and contextualizes the global nature of this problem.
The Paris Agreement—or Paris Climate Accord—has brought more attention to the problem of air pollution, specifically greenhouse gases. Representatives from 196 nations adopted the language of the agreement on December 12, 2015; although President Donald Trump announced on June 1, 2017, that the U.S. would pull out of the Paris Agreement. Irregardless, each remaining country will determine how to meet the goals of the agreement to help reduce global warming.
The top carbon dioxide emitters pledged to reduce greenhouses gases as follows: China (20.09%), the United States (17.89%, originally), the European Union (12.06%), India (4.1%), the Russian Federation (7.53%), Japan (3.79%) and Canada (1.95%). That said, only the United States ($3 billion, originally), the European Union ($4.6 billion), Japan ($1.5 billion) and Canada ($277 million) pledged money to the United Nations Green Climate Fund, and the emission reductions are voluntary with no mandated level or time frame.
As stated, air pollution and global warming do not appear to be improving. Thankfully science and consumers are rallying to save not only our own skin but our environment.
References
ipcc.ch/report/ar5/wg3/ (Accessed June 14, 2017)