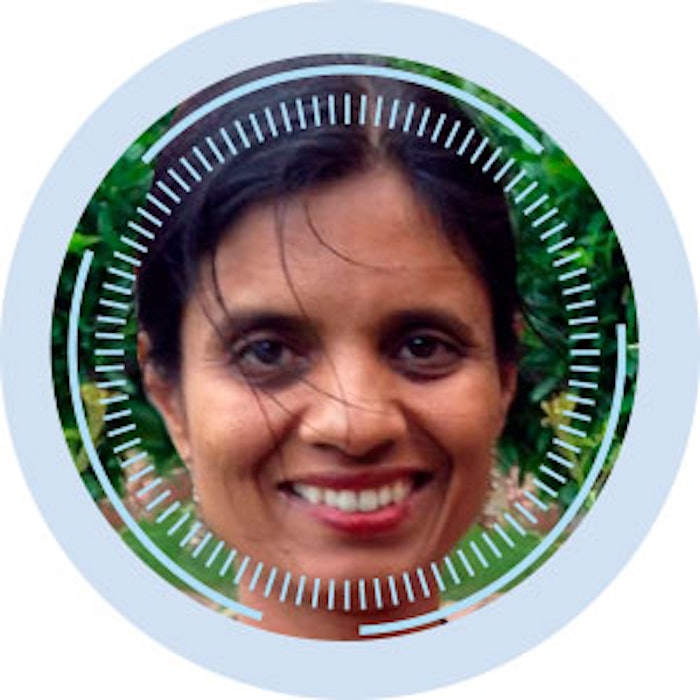 Shilpi Jain graduated summa cum laude from the University of Toronto with a bachelor degree in biochemistry and inorganic chemistry, followed by a masters in chemistry—specifically, organometallic chemistry. Her thesis resulted in five publications and two patents.
She currently works for Skinveda, LLC, on topical hyperpigmentation and pain solutions, among others; here, she shared her experiences and aspirations with Cosmetics & Toiletries in our "Ones to Watch" series.
Mentors and Teachers
I also did my masters thesis with Prof. Michael Denk, who whipped me into a hard-working, tireless and very patient scientist. He gave me several opportunities to present at American Chemical Society meetings as well as to teach a university class, to work with thioureas toward cancer research, and to work with air-sensitive chemistry toward chemical vapor deposition (CVD) precursors.
On the industrial side, I'd like to acknowledge Thuy Ann Trang, Ph.D., who was my supervisor and project leader at Arena Pharmaceuticals. Under her supervision, I was involved in the synthesis of the drug lorcaserin.
Last but not the least, I'd like to acknowledge my mother, who taught science and had a masters in chemistry and bachelors in education. She inspired me every day and invoked my curiosity to choose this field.
Hyperpigmentation, Pain and More
I am working on developing products for hyperpigmentation using alternatives to hydroquinone, as well as topical creams for pain relief. I am also in the process of researching and formulating hair growth products and products for reversing signs of gray hair without using invasive or harsh synthetic chemicals.
Meeting Challenges: Marketing and Claims
The best part about my work is the creativity and innovation that drives me to create products and formulations that were probably not possible 15 years ago. I am always seeking challenging projects. I also love educating consumers about how to read labels and understand their skin from the inside out.
My least favorite would have to be marketing. I am a hands-on chemist and love research, development and formulation, but when it comes to selling products it is a whole new animal.
Being an entrepreneur comes with several challenges. The most daunting aspect is to wear several hats and when a hat becomes challenging, to say to yourself I chose this road and must overcome this challenge.
Experience and learning through mistakes has helped along the way. For instance, one of the challenges I face as a formulator of natural skin care is claims substantiation. With new rules and regulations from the U.S. Food and Drug Administration (FDA), it becomes challenging as we must be very careful with our words. Even if something is as effective as the current OTC/drug and is plant-based, we cannot claim this quality.
I have seen a strong connection between skin issues and the way we manifest stress in our lives.
Finding Solutions from All Angles
The best and most fulfilling part of my profession is when I am able to address a particular problem, be it in skin, hair or another health issue, and to find a solution that works. I have been fortunate to have several such instances.
For example, I recently formulated a patent-pending topical for pets and humans that will help reduce inflammation of the joints and arthritis in older dogs and for humans, as well for inflammatory response to pain.
I also developed the first product in my own line: Replenishing serum. My son, who was a little over a year, had developed eczema. I was confident I could find a solution to his itchy, dry skin with rashes. I formulated the Replenishing serum and noticed an immediate improvement in his skin within one week.
As a chemist, I look at all angles of the problem: from a medical perspective, to formulations, bio-identical compounds and synergies as well as delivery systems. I am also trying to incorporate psycho-dermatology into my practice and have seen a strong connection between skin issues and the way we manifest stress in our lives.
For the Love of Formulating
Since the age of 10, I was intrigued when my mom made homemade facial masks, and I loved mixing up fruit pulps and oatmeal powder and dabbing them on my face more than I did playing with toys or even baking cakes. I always wanted to go into personal care formulation.
What excites me the most about this job is innovation and new research. I love reading journals and industry news to help me formulate new and improved products.
I would like my role to evolve into taking up more challenging projects, especially in skin and hair care, and work with companies that need an advisor to help with troubleshooting formulations. I also would love to be able to promote my products through online media and get more people to try and feel their difference.
Evolving Career
I have been fortunate to know several people in the industry who have referred me to clients through my impeccable work as a formulation chemist. I would like to continue that trend and also need assistance with growing the brand, as I see such a huge potential for Skinveda.
Graying Hair, Ayurveda and Education
I don't think we've yet found a solution to graying hair; i.e., reversing it naturally. There is also growing awareness among those formulating Ayurvedic personal care for herbs and claims/results; however, many of those formulating in this niche may not have the skillset to synergize these very potent herbs by knowing their chemistry and how they can interact with one another. The wrong combination of these herbs can hurt rather than help.
I also think the education is lacking and consumers are becoming more savvy. However, marketing and PR remain very strong influencers. We as chemists and brand founders must do our due diligence and educate the consumer to steer them in the right direction.
Transparency and Plant Actives
In the future, I would like to see a more fluid and transparent processes of formulating skin care, cosmetics and personal care, whereby regulators work hand-in-hand and information about current regulations is easily available to formulators.
I would also like to see more plant actives tested for their efficacy and approved by the FDA. Finally, I would like to see more turnkey solutions and companies being more honest in their marketing of products.