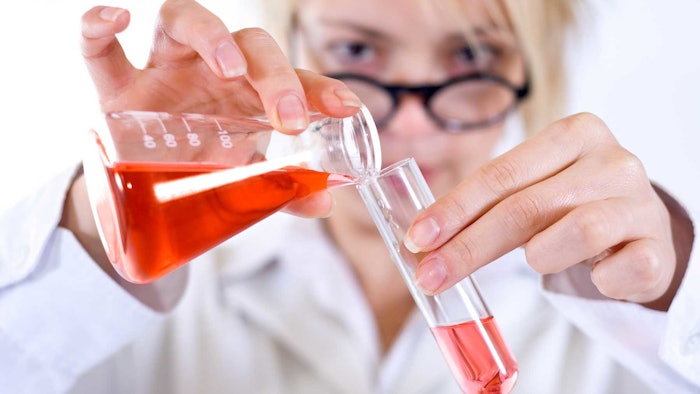 The clock is ticking. . . soon, Cosmetics & Toiletries (C&T) will excitedly present the C&T Allē Awards during an exclusive Awards Dinner, to be held on Sept. 28., 2022, at the Metropolitan Pavilion in NYC.
Co-located with Beauty Accelerate, the dinner will give innovations ranging from cosmetic ingredients and product formulas, to digital technologies and test methods their time to shine.
>>> Register now for Beauty Accelerate to get the Early Bird rate.<<<
Who will win? The competition was tight, and this year's contenders were put through a grueling review by our esteemed panel of judges. Check out these finalists in the "base ingredients" category.
Vantage Personal Care: Liponate Jojoba 20
This ingredient is a COSMOS-approved emollient that addresses the need for vegan formulations with a high level of traceability and naturality. The oil-free emollient transforms formulations to sensorially activate them by conveying a sense of hydration and soothing. More than an emollient, the multifunctional product has been substantiated to help protect sensitive skin and damaged hair. When tested on damaged skin, the emollient restored hydration levels in just four hours.
Kumar Organic Products Ltd.: Kopester IDO
This innovative remake of isodecyl oleate adopts biocatalysis for the esterification of isodecyl alcohol and oleic acid into an emollient ester. The novelty is in its biotransformation of a chemical process at half the temperature without any solvent, cost-effectively. As the biocatalysts are immobilized, they are easily filtered, washed and reused for the next batch. Ten cycles of reuse have been established in the production scale. This significantly improved the process, directing the it toward green and sustainable chemistry.
Miyoshi America, Inc.: MiyoHaze White
Chemists often have difficulty finding high-opacity, pure white powders for formulations that remain true to color in both wet and dry conditions—a key point to developing liquid foundations. To combat this, an innovative, multifunctional opacifying powder was developed whose unique properties display both wet and dry color fidelity with high opacity, resulting in a soft-focus effect in the end formulation. The ingredient can also be surface treated to provide additional value-added benefits such as strong hydrophobicity, high coverage and enhanced feel.
>>> Register now for Beauty Accelerate to get the Early Bird rate.<<<
Applechem, Inc.: Applemol PTIS Plus
This novel pigment-wetting + dispersant emollient is designed to resolve common formulation bottlenecks in color cosmetic manufacturing. Product development speed can be heavily affected by viscosity fluctuations, laborious grind phases, poor pigment wetting agents or color shade inconsistencies. This ingredient simplifies the process by combining universal pigment compatibility with superior wetting power, giving formulators significantly more control over viscosity, texture, payoff and stability.
P2 Science, Inc.: Citropol H Green Chemistry Cosmetics Polymer
This medium viscosity cosmetics polymer is 100% derived from upcycled sustainable feedstocks and is a viable natural alternative to dimethicone 350 cPs. In hair care applications, it offers performance advantages over other 350-cPs silicone alternatives, owing to its cost-in-use efficiency, hydrophobicity, sensorial profile, best-in-class heat protection, reduced build-up and antimicrobial properties.
Dow Consumer Solutions: HydroxyShield Polymer
This hydroxyamino functionalized silicone can create next-generation formulations to meet consumer hair care needs. The product shields, i.e., rescues, repairs and protects hair, and has superior performance to traditional silicones. The product also has low amine and cyclomethicone content, is effective at low use levels, and promotes fast-drying time, equating to less energy consumption and less heat damage. All of these aspects align with the company's sustainability goals.
Biosynthetic Technologies: BioEstolide 250
This stable, bio-derived oil from a natural non-GMO source offers performance features such as inherent UV blocking and pigment dispersion. It enhances skin elasticity, provides moisturization and imparts a light, satiny feel. It can function as a natural alternative to silicone. The product is REACH registered and Kosher, Vegan and Halal certified. The sustainable and biodegradable oil functions as an emollient with enhanced oxidative stability and a negative carbon footprint.
Presperse: GreenDiol
This 100% natural 2,3-butanediol is produced by the fermentation of sugarcane or cassava. The multifunctional, biobased polyol functions as an emollient, humectant, preservative booster and solubilizer. Furthermore, it improves sensory appeal in a wide range of formulations for skin, hair, scalp, color cosmetics and more. It is non-GMO, COSMOS approved, EU-REACH registered, Vegan certified and USDA bio-based certified. It is readily biodegradable and has an ISO 16128 natural index of 1.
INOLEX: Lexgard MHG Natural MB
With roots in green chemistry, Inolex reimagined medium-chain glyceryl ethers with natural feedstocks and sustainable manufacturing at the core. The result is methylheptylglycerin (MHG), a 100% biobased branched C8 glyceryl ether derived from sustainably sourced castor oil and RSPO Mass Balance palm. In all formulation types, it acts as a preservation booster, and in lotions and creams, it prevents soaping during rub-in without using silicones.
>>> Register now for Beauty Accelerate to get the Early Bird rate.<<<
Nouryon: Solamaze Natural film former
This bio-based, readily biodegradable film-forming polymer offers superior water resistance and pleasing aesthetics for sun care products. It is globally approved and was developed to maintain the performance of leading synthetic polymers while reducing persistence in the environment. The product also provide benefits in rinse-off conditioners, hair styling, cleansing and cosmetics formulations. The product is COSMOS and Natrue approved, and produced following the 12 Principles of Green Chemistry.
Dow: Sustainable SunSpheres Bio SPF Booster for Sun Protection
Bioderived and readily biodegradable, this ingredient is a green technology designed to maximize protection against sun/UV damage while minimizing the negative health and environmental impact of sun care products. This product is innovative, highly efficient, eco-friendly and multifunctional. It avoids performance trade-offs common to "green" chemicals and addresses a key need in the fast growing $12 billion sun care market. Its performance has been validated.