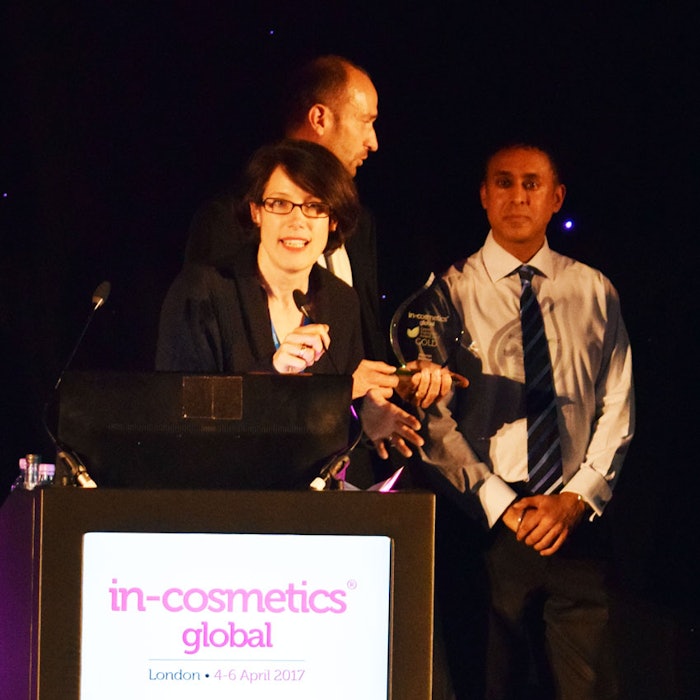 (Continued from Part II)
Thinking 'Green'
Sometimes the most difficult aspect of finding sustainable solutions is simply to think differently. This was among the key highlights presented at the Sustainability Corner by Prof. James Clark, Ph.D., of the Green Chemistry Centre for Excellence at the University of York. His talk spanned not just cosmetics, but chemical industries in general, giving creative insight, for example, on how to reconsider and re-vamp waste to contribute to a more sustainable, circular economy.
"Take biomass, a natural and renewable resource, and you feed that into chemical manufacturing, in something we call a biorefinery. There are different generations of the so-called biorefinery, which kind of reflects our thinking. At the moment, we're not very ambitious and not terribly clever, but at least we're doing something," said Clark.
"First-generation biorefineries tend to take 'foody' materials, which has caused controversy, in the food vs. fuel debate. It has upset all kinds of people. Ten or fifteen years ago, everybody thought biofuels were great because it said 'bio.' That, of course, has to change. We now need to be much more sensitive to what is actually meant, and to thinking of lifecycle issues.
"Second-generation is where I'm doing a lot of work, and where I think there's great future potential. This is based around all the 'stuff' you can't eat. We must remember that much of what we harvest, we can't eat. It tends to be cellulosic or lipo-cellulosic. It's a chemical feedstock but it's not a human feedstock; we can't eat it.
"There is third-generation, which is, I suppose, the ultimate goal, is having biomass that doesn't even compete for land. To me, first and second are great; the third is still a long way off in terms of technologies. So the second generation is the place to be. But to get there, we have to be careful in the way we regulate things."
View an excerpt from Clark's presentation, here:
Alternative Materials
Supplier companies have turned chemistries around and upside-down in attempt to replace traditional technologies or processes with greener, more viable options. Eco-friendlier technologies presented at the show ranged from sustainable volatile coconut alkanes from Biosynthis; Olivem 2020, a naturally derived, cold-process emulsifier from Hallstar; naturally and sustainably derived polymers from Revolymer/Itaconix; and KLK Oleo's sustainable solutions; to Straetmans' antimicrobial boosters to reduce preservative levels; Cargill's Actigum VSX 20 and other texturizers based on traceable and sustainable plant-derived ingredients; and Imerys Minerals' ImerCare P-Scrub, a natural volcanic rock alternative to polyethylene beads PE beads; among others.
In fact, the gold Innovation Zone award for functional ingredients went to Ashland, for its FiberHance bm solution. Built on sustainable glucoside chemistry, this ingredient was designed to penetrate hair fibers and provide strength without compromising color. In addition, the silver went to Inter Actifs/ACETO Corp. for its Heliocoidal emulsion technology, which is sensory-based and 100% renewable.
Sustainable Processes
Greener processes also had a greater emphasis this year than in the past. For example, Carbon Zero Cold-processing by Earthoil and Biolie's Greentense active, which was sourced from food by-products using a new enzymatic extraction technology. Greentense notably won bronze in the "best green ingredient" category during in-cosmetics.
With another eco-friendly extraction process, Chimex presented its Deep By Phytoreveal approach to obtain eco-extracts. This technology is focused on "process intensification" to reveal sensitive compounds trapped in fibrous or other less accessible plant parts without damaging them, then use intense mechanical energy to shorten extraction times and obtain different extraction profiles—all requiring up to 50% less solvent than traditional processes.
And in the same extraction "vein," Deep Eutectic Solvents (DES) have gained rising interest as a greener means to derive plant materials. According to Chemical Society Reviews, these ionic fluids are generally composed of two or three relatively inexpensive and safe components that are capable of self-association, often through hydrogen bond interactions. They form a eutectic mixture with a melting point lower than that of each individual component. While they exhibit similar physico-chemical properties to traditional ionic liquid, they are cheaper and more environmentally friendly for extraction processes.
Naturex is one cosmetic ingredient supplier employing DES, which it used to launch the Eutectys botanicals range including Tillandsia Eutectys and Eliorelys, derived from cherry blossoms—the latter of which won gold for the "best green ingredient" during in-cosmetics.
Gattefossé also leveraged a natural DES (NaDES) process to develop its Gatuline Link n' Lift (INCI: Fructose (and) Glycerin (and) Water (aqua) (and) Aesculus Hippocastanum (Horse Chestnut) Extract) ingredient. As the company explained, "NaDES is inspired by the way metabolites are solubilized in plant cells through eutectic combinations of sugars and nitrogen compounds." Horse chestnut flower extract is derived in this manner and employed in this ingredient to help skin fight matrix degradation and encourage epidermis-dermis cohesion.
Clearly, concepts surrounding sustainability permeated in-cosmetics 2017; and this is merely a sampling. From the looks of things, the end goal is not new; but the processes to reach it and measure how we're doing are.
~Cosmetics & Toiletries~