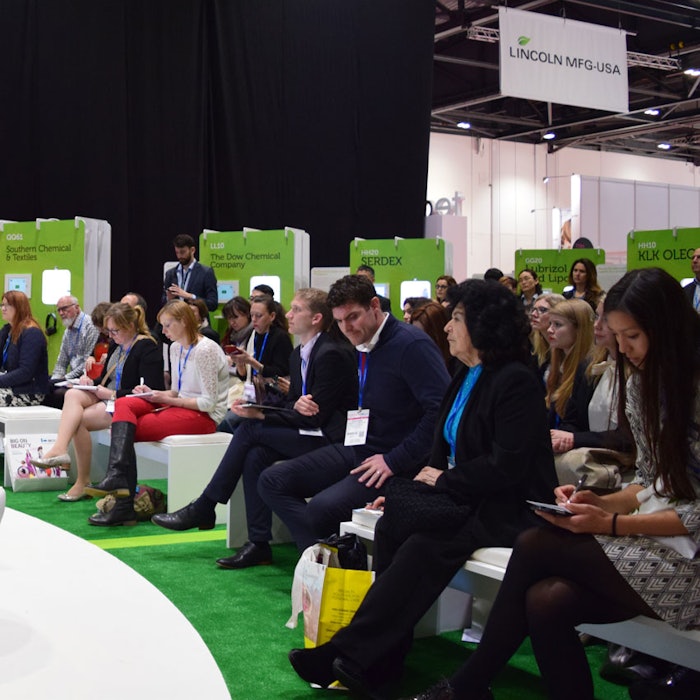 (Continued from Part I)
Beyond internal efforts toward sustainability are broader social implications. Jayn Sterland, of cosmetic manufacturer Weleda, stressed the importance of this during her Sustainability Corner presentation. She gave an example of how Weleda embraces social responsibility by raising awareness and engaging consumers about climate change.
Empowering the Source
Cosmetic ingredient suppliers are also social responsibility-minded. Some of the ingredients they developed based on such practices were featured at the Sustainability Corner as well as individual booths. Others even surfaced during the in-cosmetics awards ceremony. Kahan SAS, for example, won silver in the "green ingredient" category for its Cacau Oil, a unique Amazonian oil with functional characteristics whose commercialization is making a positive social impact in a country dogged by drug warfare.
Another example is DSM's Alpaflor range of Alpine bioactives, produced at the company's Vouvry site, which was awarded ECOCERT's "Fair Trade" certification for fairness, solidarity and responsibility. According to the company, fair trade represents a long-term commitment to ethical pricing, creditable working conditions, agricultural education and sustainability for farmers. It's about dealing transparently and honestly with the people who are responsible for the quality of DSM's products.
Furthermore, DSM's customers require its ingredients to have a fair-trade status. According to Gaelle Bathany, DSM's head of global key accounts, "In today's market, people want the peace of mind that comes from knowing that the products they buy are ethical and traceable from source to shelf."
Yet another example comes from AAK Personal Care, whose fair-trade program aims to empower women and improve their livelihoods via direct shea sourcing in Africa. According to the company, shea trees grow wild in a belt across Africa, south of the Sahara. Due to a long maturity period, the trees are not grown in plantations, so for more than 60 years, the company has built extensive experience with this raw material, as well as the local communities from which it is sourced.
In relation, in 2009, AAK initiated a project for responsibly sourcing shea kernels from the Burkina Faso region. This project was designed in collaboration to benefit both AAK and the women collecting the shea kernels, and has successfully touched the lives of more than 90,000 women as of 2015-16. The company adds there are still many who want to join the program, so plans are under way to extend it.
"The sustainability characteristics of a raw material should not end in one binary number ... but some characteristics can be clustered to provide formulators with an initial indication of where to apply the most developmental effort."
Measuring Up
Perhaps one of the most novel aspects of sustainability presented at in-cosmetics this year was how to measure it. Karl Lintner, Ph.D., president of KAL'IDÉES, gave an entire workshop on it, asking the industry, "What is the impact of developing, manufacturing and marketing cosmetic products in the world's environment? Do we have tools to measure these things?" In addition, Amarjit Sahota, of Ecovia Intelligence, held a panel discussion with Jayn Sterland, of Weleda, and Chris Sayner, of Croda, on the major ways cosmetics and related firms are tracking sustainability.
An obvious and direct approach to measuring sustainability is to see whether an ingredient is toxic to the environment. As such, International Research Services, Inc., promoted its capabilities for measuring the potential negative impact of materials, as well as for developing other claims substantiation methods for companies.
Certifications are another sustainability stamp of approval; and there are many. One example that came up several times during in-cosmetics, however, relates to the palm oil industry. The Roundtable on Sustainable Palm Oil (RSPO) is an authority in this area, and for companies whose oil supply can be traced back to its plantation of origin, an RSPO certification is awarded. BASF is one supplier heavily focused in this area, and presented an update of its progress through 2016—an impressive 56% of the oil it procures is RSPO-certified.
From another angle, a few companies highlighted ways to measure an ingredient's impact on the environment throughout its lifecycle. Solvay, for example, as sponsor of the Sustainability Corner, presented its Sustainable Portfolio Management (SPM) tool, which determines the sustainability contribution of Solvay products in specific applications based on an ingredient's lifecycle assessment.
According to the company, the SPM comprises two main facets: the carbon footprint of its ingredients and how their application addresses the need for sustainable practices in the market. For the carbon footprint component, an Ecoprofile is taken of a product to measure the environmental impact of manufacturing 1 kg of it. For the application component, a Product-Application Combination (PAC) assessment is made to determine at what level the ingredient is part of the solution or part of the problem. The SPM tool combines these aspects.
Through its "Good Looking Forward" strategy, Evonik also presented a tool, referred to as CAREtain, designed to work like an app, that tracks the impact of the company's ingredients on the environment and other sustainability considerations throughout the ingredient's lifecycle and production process. The tool was developed to help customers visualize the total impact of Evonik's ingredients and more easily find ideal products for given applications.
"We designed the app to educate our customers about the sustainable supply chain because we found many didn't know much about it," said Peter Becker, head of corporate responsibility for Evonik's personal care sector. He added, "We also put the pressure on customers to join us [in our sustainability initiative]. It's our policy to switch to a renewable option whenever possible.
"It's a cradle to grave approach, viewing materials from their sourcing through production at Evonik. It weighs the benefits of our ingredients in a final product against formulating and environmental obstacles to create a 'score.'"
The resulting tool helps clients make verifiable claims while appealing to consumers' personal care needs as well as their sense of environmental responsibility. As Evonik explained, "Comparing all sustainability characteristics of a raw material might not, nor should it, end in one binary number telling us what is more or less sustainable. But some of these characteristics can be clustered to provide formulators with an initial indication of where to apply the most developmental effort."
(Continue to Part III)