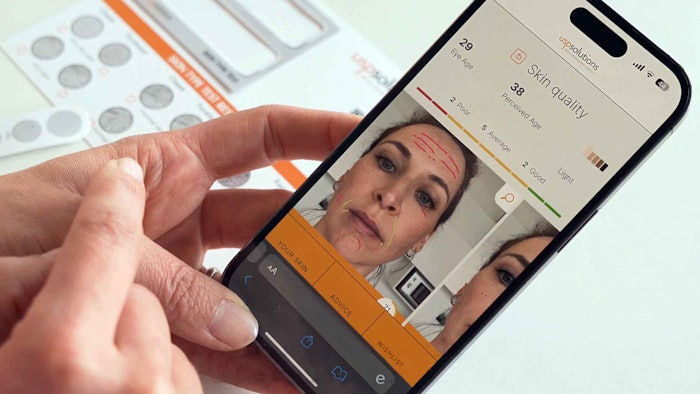 Haut.AI is partnering with USP Indicator Solutions, an expert in sensory beauty brand activation tools, to create a novel skin care analysis product: Phygital Skin AI. The tool combines clinical-level skin analysis with personalized recommendations in order to solve the problem of consumer compliance and ensure that users continue their product routines to see results. 
See related: Haut.AI's SkinGPT Simulates Skin Care Product Results
According to Haut.AI, Phygital Skin AI provides "seamless omnichannel consumer journeys to become a trusted advisor for effective skin care solutions." It effectively allows retailers to pivot from "selling" to "solving," in-store and online.
Using rich consumer data to deliver personalized recommendations, Phygital Skin AI takes skin measurements with on-skin testers and continues the journey in a digital skin care app. Customers are given detailed skin scores and the mobile app allows shoppers to analyze and track results to make educated decisions and find a tailored selection of products. 
"Haut.AI and USP Indicator Solutions are proud to announce their partnership to offer advanced phygital skin analysis to consumers in the comfort of their own homes," said Diego Kanda Diwidi, CEO at USP Indicator Solutions. "This partnership combines USP's sensory skin testers that provide rich data on skin needs with Haut.AI's best-in-class selfie-based visual analysis. ... We're excited about this partnership with Haut.AI as it allows us to accelerate in providing reliable, digitally personalized skin care analytic solutions for beauty brands both online and offline."
"Our AI skin analysis tool is best-in-class, comparing user data points with the 'standard' for their demographic and lifestyle, and is further enriched by environmental information like pollution and sun intensity at the time of the analysis," said Anastasia Georgievskaya, co-founder and CEO of Haut.AI. "We are thrilled to partner with USP Solutions and help companies and manufacturers engage with and educate their customers in a more personalized way."
See also: Haut.AI Announces Partnership with System Akvile for Acne Skin Care App