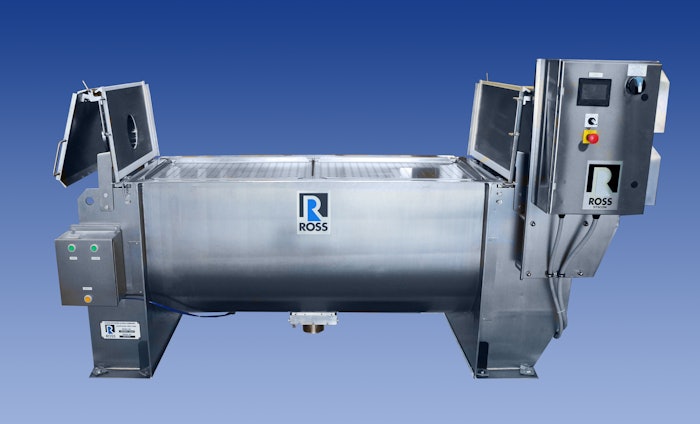 Photo Credit: Charles Ross & Sons
ROSS has released its Ribbon Blenders that handle a wide range of dry materials, from seasonings and beverage mixes to pharmaceuticals, chemicals, plastics and agricultural powders or granules.
These blenders efficiently incorporate minor liquid components to effectively coat individual solid particles, per the company.
Related: Trending: Hunca Kozmetik, Steya, Kojic Acid Soap and Others
The ROSS Model 42N-18SS is crafted from type 316 stainless steel with interior surfaces polished to a150-grit finish for easy cleaning. With a maximum working capacity of 18 cu.ft., the pictured blender is directly driven by a 10 HP gear motor for processing materials with a bulk density of up to 60 lbs/cu.ft.
The agitator is a solid double ribbon design, ideal for center discharge, with internal flanges welded to shaft stub ends and a heavy-duty anti-friction bearing on the non-driven end. A two-piece safety grating with ½" diameter perforations ensure safe operation while the split foldingcovers are open, per the company.
A spray bar with fan type spray nozzles is installed on the trough via sanitary tri-clamp connections for liquid additions. The blender is operated from a 4" color touchscreen that includes a cycle timer. The finished product is discharged through a pneumatically-operated 4′′ dust-tight knife gate valve.