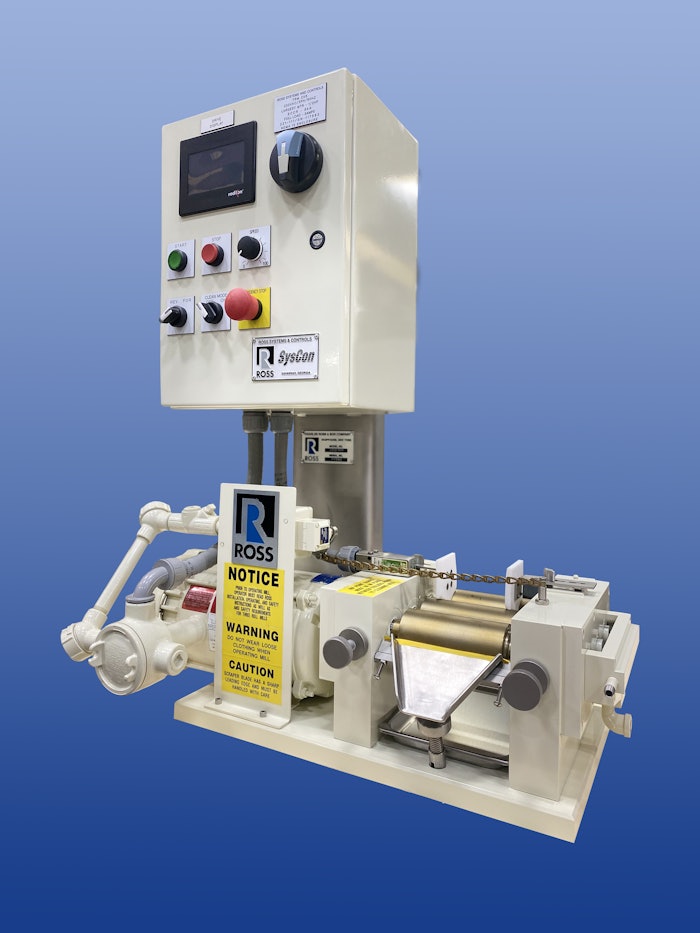 Charles Ross & Son Co.'s ROSS Three Roll Mills, used for high viscosity dispersions , features heavy-duty construction and an ANSI 2017-compliant controls package for paints, inks, cosmetics, ointments, dental composites, electronic pastes, specialty coatings, filled resins and various other fine particle dispersions.
Related: Ross Highlights VersaMix 3,000-gallon Multi-Shaft Mixers
This model includes hardened stainless steel type 440C precision ground rolls that are cored for water cooling and heating, a  ½ HP TEFC inverter-duty motor and a NEMA 12 control panel wired to a safety trip switch that will stop the rolls in less than one revolution.
Also available in floor-mounted production models, ROSS Three Roll Mills can be supplied with explosion-proof motors and controls, ceramic-coated rolls, hydraulic roll pressure indicating devices at each handwheel, rotary pressure joints for tighter temperature control, custom safety covers and other optional features.