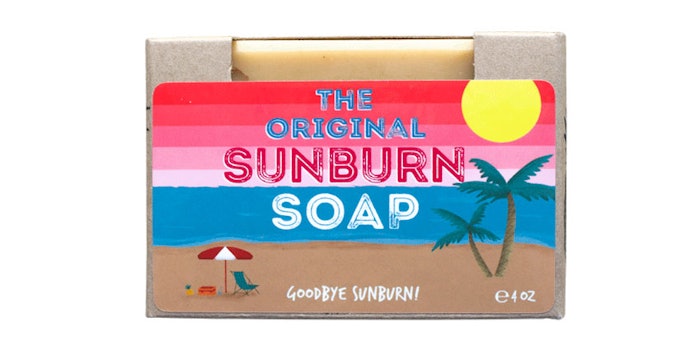 WILD Organic Skincare
WILD Organic Skincare claims it has found a solution to help sunburn sufferers' skin feel better, faster with its Original Sunburn Soap.
Related: Oh.So Launches After Sun Spray
According to the company, the first shower after being burned is a crucial moment in determining how long and painful a sunburn will be. And, the ingredients in conventional soaps can reportedly make a sunburn feel worse. The sunburn moisturizing soap is not only reported to glide on smoothly when washing in the shower, but the organic, natural ingredients are said to rehydrate and exfoliate skin to help decrease redness, irritation, peeling and pain.
The owner of the company, Monika Angelini, sought to create a soap to lessen: sunburn, pain and peeling, while supporting healthier summer skin. She noted that combining the ingredients required to make a soap for sunburns was not only complex, but also did not lend itself to traditional soap-making techniques. It took traditional trial and error, often resulting in "goopy" soap, to achieve The Original Sunburn Soap. 
"As summer approaches, it's extra important to pay attention to what products we use on our skin," said Angelini. "Sun damage is dangerous, cumulative and difficult to reverse. Your skin is at its most vulnerable stage when burned, and needs natural ingredients it can recognize. The Original Sunburn Soap is made with aloe extract, honey, coconut milk, marshmallow root, witch hazel and peppermint oil, and will gently exfoliate dead skin and heal at the same time."
Ingredients: Saponified Oils of: Coconut, Olive, Shea and Castor; Rice Bran Oil, Epsom Salt, Coconut Milk, Honey, Essential Oils, Witch Hazel Extract, Marshmallow Root Powder, Cucumber Extract, Aloe Vera Powder, Sodium Lactate.