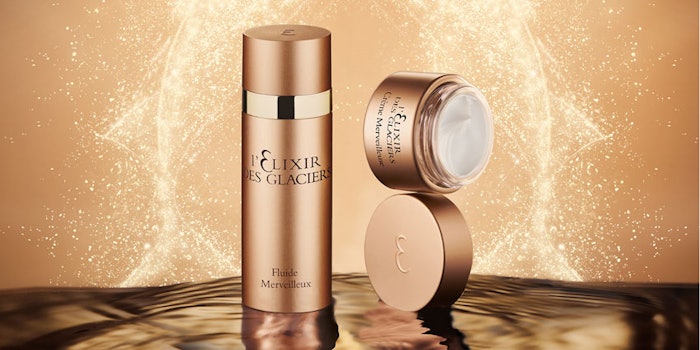 Valmont
Valmont, a Swiss beauty brand, will introduce the Essence of Gold Sturgeon line, the third collection in the l'Elixir des Glaciers pillar. The Essence of Gold Sturgeon collection is designed for illuminating the skin.
Previously: Valmont to Release 4 Skin Revitalizing Products
According to the company, for the first time ever, Valmont diverts from using their triple patented salmon DNA to ethically raised Ostera sturgeon. This sturgeon DNA reportedly blocks elastase while stimulating the production of proteoglycan. This sturgeon DNA is coupled with Valmont's oligo-mineral complex to create the Essence of Gold Sturgeon skin care collection, which will release in April 2021.
Of the collection, Fluide Merveilleux is an anti-aging, regenerative face essence that works as a pre-serum to boost the skin's outer glow. With its gel and water texture, this serum remineralizes the skin and boosts radiance through its mineral complex and sturgeon DNA.
The second item of the collection, Creme Merveilleuse is a regenerative face cream that helps the complexion while offering the skin a sensorial experience. This cream contains ingredients that are ideal for all ages; makes pores appear tighter; and offers a more uniform and luminous skin tone.
"From the beginning, the l'Elixir des Glaciers collection has embraced natural resources and cellular cosmetic technology to deliver advanced formulas through plant extracts; honey borrowed from the beehive; glacial spring water; and more," said Sophie Guillon, CEO of Valmont. "The Essence of Gold Sturgeon collection continues to tap into mother nature's treasures by embracing precious ingredients from the marine world, providing immediate skin benefits like no other."
Related: Antipodes Recovers Skin with Probiotic, Hyaluronic Acid Water Cream