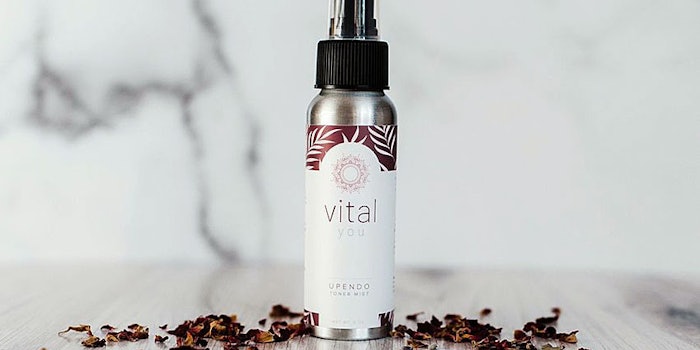 Vital You
Vital You's product line of CBD toner mists imparts a variety of benefits such as anti-aging, aromatherapy and skin hydration.
Featured: Evoking Emotion: Internal and External Factors in Sensitive Skin
The company offers four toning mists, including: Upendo, Pure, Chill and Zen. Each product contains a varying amount of CBD to balance the skin and the mind, with no THC.
The Upendo toner mist is meant for sensitive skin to tone while evenly setting makeup. This mist is created from organic rose hydrosol, a blend of gem and flower essences and 100 mg of CBD isolate. Rosewater has reportedly been valued for its benefits on both a physical and mental level, such as being gentle to the skin; imparting anti-aging properties; controlling excess oil; toning skin and cleaning pores; and boosting mood. The Pure toner mist contains the lightest amount of CBD at 50 mg and is intended to provide day-long hydration, toning capabilities and to offer a burst of "freshness."
The Zen toner mist is highlighted for its aromatherapy benefits, to reduce high stress and anxiety with the help of 120 mg of CBD in the product. This toner is promoted for on-the-go use during high-stress situations that can flare up the skin. Finally, similar to the Zen toner, the Chill toner is intended to relax the body and clear the mind with its 70 mg of CBD. This spray is designed for moments of insomnia, to relax the skin and mind.
Ingredients (Upendo Toner Mist): Organic Rose (Rosa Damascene) Hydrosol, Witch Hazel, 100 mg Hemp-Derived CBD Isolate in MCT Coconut Oil, Blend of Gem and Flower Essences (Ruby, Emerald, Sunflower, Bleeding Heart, Rosa Deep Secret, Peace Rose, Lavender and Tetrahedron). Editor's note: ingredients are listed as provided by the manufacturer.

Previously: Croda Presents on Self-care, Wellness, 'Feel-good' Connection and More