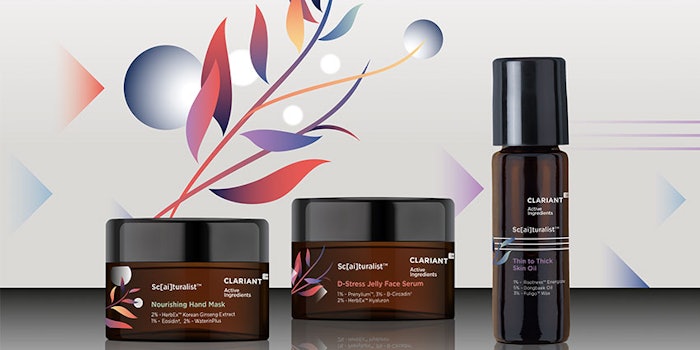 Clariant
Clariant Active Ingredients has launched RetroFuture, three skin care formulations using traditional, natural ingredients that have been updated to modern consumer needs for scientifically proven advanced efficacy and lower environmental impact.
Related: Clariant's Fantasy Formulations: Edition 4
With RetroFuture, classic formats are reinvented for application areas or techniques. Extracts of traditional ingredients, ayurvedic plants, herbs and spices, and plant-derived molecules are blended with concentrated active ingredients sourced with minimal depletion of plant or vegetal resources.
Each formulation provides a wide range of benefits to support skin care needs for hydration and guarding the skin matrisome. The proportion of nature-derived ingredients supports formulators in increasing the natural content of formulations.
D-Stress Jelly Face Serum
This thick and bubbly jelly serum is a classic gel that can improve sensory and application. Designed for brush application, the face serum leaves skin light and hydrated.
Sustainable hydration is delivered by resynchronizing skin's natural rhythm with B-Circadin (INCI: Propanediol (and) Water (Aqua) (and) Lespedeza Capitata Leaf/Stem Extract) and by mimicking the skin's own support system with HerbEx Hyaluron 1.0 (INCI: Butylene Glycol (and) Water (Aqua) (and) Sodium Hyaluronate).
Additionally, Prenylium (INCI: Propanediol (and) Water (Aqua) (and) Morus Alba Root Extract) completes the action by targeting root stimulation and contains prenylated flavonoids for matrisome protection properties, leading to youthful-looking skin.
Nourishing Hand Mask
To counter dehydration irritant effects of frequent handwashing, sanitizing and pollution, this mask leaves skin refreshed and bolsters its natural defenses, even hypersensitive skin.
This hand mask features a popular traditional Chinese medicine herbal remedy—ginseng, in the form of the company's ingredient, Ginseng Extract (INCI: Butylene Glycol (and) Water (Aqua) Panax Ginseng Root Extract). This is to provide skin protection from UV damage.
Previously: Total Wellness Achieved by Traditional Means: Ayurveda in Cosmetics, Part II
This is complemented by an extract of green citrus unshiu peel from sustainable sources and enriched in potent molecules known to regulate immunomodulation and decrease sensitivity. Moisture levels are increased naturally with long-lasting effects due to its skin-mimicking moisturizing molecules.
Thin to Thick Skin Oil
This yellow oil is dispensed via a roll-on pen and provides strength to the thin skin areas such as the lips and eye contours. Derived from a traditional face oil serum format, this oil is made with natural emollients including camellia seed and olives to support and soothe the fragile areas of the face.
Fuligo wax enhances skin elasticity support while the company's Rootness Energize (INCI: Dicaprylyl Ether (and) Luffa Cylindrica Root Extract) delivers a boost of energy thanks to its concentration of bryonolic acid, illuminating the eye area and smoothing the lip contours.
"Through our nature-derived ingredients and formulation format suggestions," commented Charlotte Stricane, application development manager at Clariant Active Ingredients. "We're delighted to support formulators with inspiration for future-ready beauty products that embrace cravings for the safety of familiarity together with the security that comes from science-backed efficacy and more environmentally-respectful production."
For more information, contact Clariant Active Ingredients.