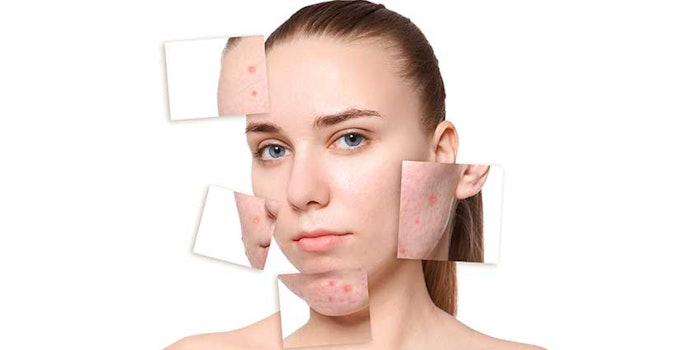 Ortho Dermatologics announced its Arazlo (tazarotene 0.045%) lotion is now offered in the United States for the topical treatment of Acne vulgaris in patients nine years and older.
Related: Paula's Choice 2% BHA Exfoliant for Acne, Anti-aging
Available commercially to health care professionals, the product was approved by the U.S. Food and Drug Administration (FDA) in December 2019, and is claimed to be the first tazarotene acne treatment available in a lotion.
"Retinoids like tazarotene are considered a cornerstone of acne treatment because they are highly effective in treating acne, but they can irritate the skin, causing dryness, peeling and sensitivity," said Bill Humphries, president of Ortho Dermatologics. "Phase 2 data for Arazlo indicates our lotion formulation offers a more tolerable option than Tazorac (tazarotene) cream 0.1% without sacrificing efficacy. We are excited to offer this new acne treatment option to dermatologists and their patients across the United States."
"The lotion formulation of Arazlo is generally well-tolerated, allowing more patients with multiple types of acne to take advantage of its efficacy," Emil Tanghetti, M.D., lead Arazlo study investigator, added. "I am excited to offer Arazlo to my patients and anticipate they will be pleased with their results."
Previously: Ajowan Oil Exhibits Efficacy vs. Acne, Dandruff Microbes
In a Phase 2, head-to-head study, Arazlo and Tazorac (tazarotene) Cream 0.1% exemplified similar treatment success rates and similar reductions in both inflammatory and non-inflammatory lesions in a 12-week span. Also, Arazlo was associated with about half the number of adverse events and fewer treatment-related adverse events.
The FDA approval for Arazlo was based on data from two Phase 3, multicenter, randomized, double-blind, vehicle-controlled clinical trials in 1,614 patients with moderate to severe acne. In both Phase 3 studies, all primary efficacy endpoints were met with statistical significance (p < 001). Arazlo was also shown to be generally well-tolerated in the clinical study population.