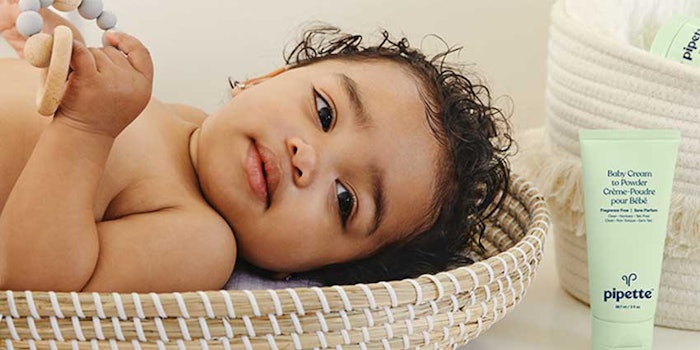 Amyris, Inc has recently announced the launch of Baby Cream to Powder under its Pipette baby brand as a talc-free alternative, giving parents new choices for baby care.
Related: Federal Judge Disallows Unscientific Testimony in J&J Talc Lawsuit
Following the recent news from Johnson & Johnson to remove talc-based powders in the United States, Amyris moved ahead with its talc-free alternative. This alternative to baby powder goes on as a cream to prevent and treat diaper rash and irritation. The cream transforms into a silky powder on the skin to eliminate the risk of powder inhalation for users.
According to Pipette, 100% sugarcane-derived squalane is the main ingredient to offer seemingly weightless hydration for baby's sensitive skin with antioxidant-rich mango seed butter to help restore the skin's natural balance. The creamy format makes the product easy to apply in those hard to reach places, such as baby rolls or along the diaper line.
Previously: Amyris Develops COVID-19 Vaccine Adjuvant and Children's Hand Sanitizer
"Our Baby Cream to Powder addresses parents' concerns by eliminating dust, mess and irritation commonly associated with traditional powders," said Caroline Hadfield, president of Pipette.  "Our goal is to deliver innovative, high-performing and safe, non-toxic alternative sustainable products that will help parents, babies and families."
Pipette's Baby Cream to Powder is EWG-verified, Leaping Bunny approved, dermatologist tested, pediatrician approved, hypoallergenic, nontoxic, vegan and synthetic fragrance-free.
"Our Pipette and clean skin care consumer brands are experiencing very strong growth," said John Melo, president and chief executive officer of Amyris. "Based on current demand, we believe the consumer business has the potential to reach over $90 million in revenue for 2020. Consumers are focusing on healthy skin for themselves and their families and have moved their purchasing online. Sugarcane derived squalane is now clinically proven to provide significant nourishment for the skin microbiome and we are very pleased to meet a critical need for the consumer at a time when the skin needs it most."
Ingredients (Baby Cream to Powder): Water (Aqua), Glycerin, Tapioca Starch, Squalane, Maranta Arundinacea (Arrowroot) Root Powder, Cetearyl Alcohol, Mangifera Indica (Mango) Seed Butter, Cetearyl Olivate, Sorbitan Olivate, Sodium Benzoate, Citric Acid, Sodium Dehydroacetate.