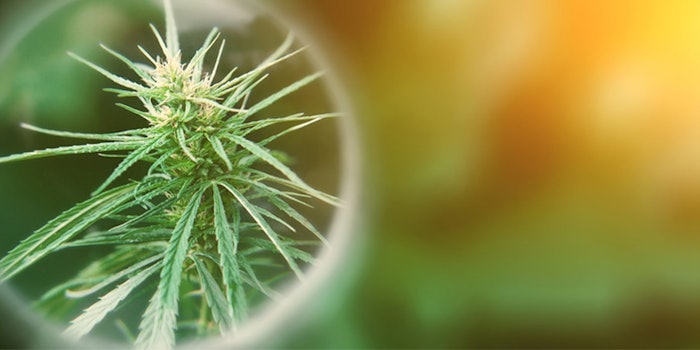 Symrise has launched Canapure (INCI: Not Provided), an active ingredient manufactured to be nature-identical to cannabidiol (CBD), during the CPhI Pharma event in Frankfurt. The non-psychoactive CBD ((-)-trans-cannabidiol) is said to impart relaxing, anti-inflammatory, anxiolytic and nausea-relieving effects.
Canapure serves as both an active pharmaceutical ingredient and as an intermediate product for new substances. Thanks to its synthetic production, the ingredient is free of pesticides, weed killers and other environmental impurities, which meets the increasing expectations of consumers. Canapure complies with the guidelines of Good Manufacturing Practice (GMP).
"Quality assurance plays an important role in the manufacture of pharmaceuticals, as even the smallest deviations can have a direct impact on consumer health," says Silke Hilmer, director global marketing aroma molecules at Symrise. "GMP-compliant quality management ensures high product quality and compliance with legal requirements." 
Update
According to Symrise, scientific studies prove that Canapure is identical to CBD and achieves a purity level of 99.8%. 
D-limonene, the basis for Canapure, belongs to a group of terpenes. This renewable raw material, derived from orange peels, is a byproduct of orange juice manufacturing. Symrise converts the D-limonene to menthadienol, which is then used to produce Canapure.
Symrise has developed the synthetic CBD according to the guidelines of Good Manufacturing Practice (GMP) for active ingredients for the pharmaceutical industry. Accordingly, both the source materials and Canapure are produced under GMP conditions.
This means that the processes comply with the requirements for all manufacturing practices such as materials, equipment and hygiene.
A joint comparison study by the Universities of Madrid and Córdoba and specialized institutes in Spain and Germany confirm that analytics has found no significant difference in the biological value of purely natural CBD and nature-identical Canapure. In addition, an X-ray structure analysis by the Max Planck Institute has proved that the absolute configuration of Canapure matches that of CBD.
"With Canapure, we are offering a reliable alternative to natural CBD," says Jörg Thilo Fischer, technical manager API at Symrise. "This product innovation is identical to natural CBD, of consistently high quality and purity and available year-round."
For more information, contact Symrise AG