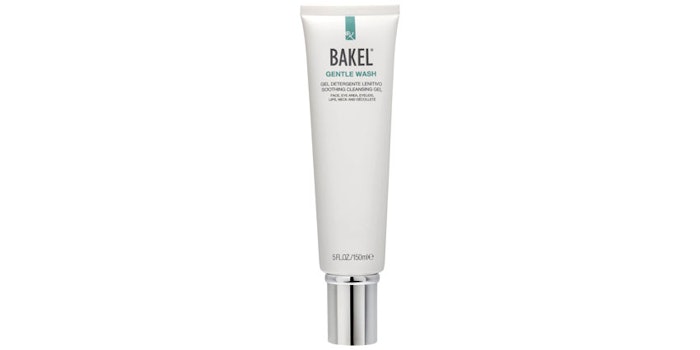 BAKEL's Gentle Wash Soothing Cleansing Gel claims to impart calming properties, and is promoted as being enriched with the natural anti-aging properties of aloe vera juice. The plant-based cleanser aims to respect skin's pH balance to help maintain the moisture barrier.
The formula is infused with soothing witch hazel, along with hydrating glycerin. It is reportedly gentle enough for even sensitive skin, and works to remove makeup, excess oil and impurities while preserving the skin's natural balance. Positioned as free from aluminium salts, perfumes, preservatives, alcohol, silicones, colorants, petrochemicals, sulfates, animal derivatives and gluten, it is promoted as vegan and cruelty-free.
Consumers are instructed to use the cleansing wash in the morning, to remove night residue, and/or as a delicate cleansing and makeup remover in the evening. It should be gently applied directly to the face, eye area, eyelids, lips, neck and décolleté using wet hands or a wet cotton pad, rinsing afterward.
This column will review the ingredient listing for claims substantiation and functionality.
Editor's note: This article aims to provide an idea of the ingredients cosmetic manufacturers are using that could potentially support the stated product claims. Without specified use levels or access to clinical studies, the author is drawing conclusions based on speculation; albeit from years of clinical experience and, in some instances, evidence in the literature. The following is offered for your consideration and further verification.
Hydrophilic Base and Care Ingredients
The hydrophilic phase of the cleanser is based on Aloe barbadensis leaf juice, with hydrating, soothing and anti-inflammatory properties. Cornflower (Centaurea cyanus) water has a soothing effect on tired, swollen or irritated skin, and has been shown to reduce irritation and regulate sebum secretion.
The humectant glycerin hydrates the skin while malic acid powerfully, yet gently, exfoliates the skin surface to improve dryness, dullness, uneven skin tone, acne and pigmentation. Witch hazel (Hamamelis virginiana) has astringent and anti-inflammatory properties.
Cleansing and Formulating Aids
Coco-glucoside is a foaming and cleansing surfactant, and arginine is pH adjuster, increasing skin hydration and alleviating surfactant lead irritation. Cyamopsis tetragonoloba (guar) gum is film former and formula stabilizer. Finally, ethyl lauroyl arginate serves as a preservative.
Conclusions
In my view, the ingredients support the claims for gentle cleanser for all skin types providing pH balance and calming properties.
Ingredients: Aloe Barbadensis Leaf Juice, Centaurea Cyanus Flower Water, Hamamelis Virginiana (Witch Hazel) Leaf Water, Glycerin, Coco-glucoside, Arginine, Malic Acid, Cyamopsis Tetragonoloba (Guar) Gum, Ethyl Lauroyl Arginate.
Source: Beauty Expert website