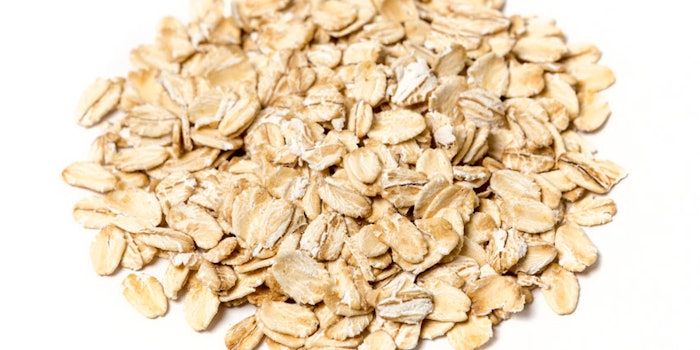 Oat Cosmetics has released new data proving the efficacy of its AvenaPlex natural active for skin hydration, as well as user acceptance. Full results will be provided at the CaliSCC Suppliers' Day.
According to the company, studies of its anhydrous active lipid complex AvenaPlex (INCI: Avena Sativa (Oat) Kernel Extract) show it significantly improves skin conditions. The new cutaneous skin hydration study, consumer perception study and 28-day comedogenicity study further support previous results. The final results will be available at booth #335 during the California SCC Suppliers' Day.
Key conclusions from the studies show the ingredient:
Significantly increases skin hydration after 28 days;
Increases the production of the skin's natural moisturizing factors;
Is non-comedogenic;
Reduces the number of micro cysts, blackheads, papules and pustules after 28 days of application;
Left 91% of users feeling their skin was more hydrated, and 86% feeling they had softer skin;
Left 82% of users agreeing their skin texture was improved, and 77% stating their skin felt more radiant; and
Scored an overall skin improvement performance rating by users of 82%.
Regarding the data, Cara Dewis, head of research and development at Oat Cosmetics, said, "This is really strong data. Despite the cohort for these studies having oily skin, as determined by a dermatologist, and the fact that AvenaPLex is anhydrous, skin hydration was significantly improved after 28 days. In one participant, the hydration improvement was a staggering 26%."
Angus Robertson, head of sales, noted "This data adds to what is already a very strong [dataset]. Despite only being launched in April this year, AvenaPLex has seen global adoption and is an amazingly low-cost active, given its skin benefits. If there is another 100% natural raw material approved by Ecocert in accordance with the COSMOS standard that contains skin-identical ceramides, is noncomedogenic and will significantly improve skin condition, I have yet to find it."
According to the company, the AvenaPLex ingredient is a complex of skin-identical lipids including ceramides, phosphatidylcholine and phosphatidylethanolamine that protects aging skin in the short term and long term. This composition enables its rapid absorption into skin, to supplement native skin lipids and strengthen the dermis while helping to prevent the loss of skin elasticity and firmness. 
For more information, contact Oat Cosmetics or visit them at booth #335.