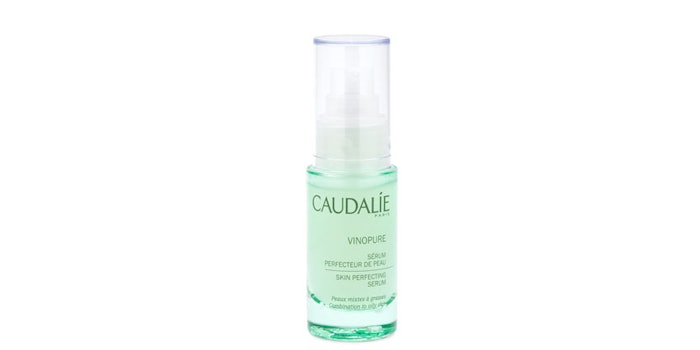 Caudalíe's Vinopure Skin Perfecting Serum is a silky gel that claims to help refine oily and combination skin types. It is designed to melt easily into the skin, and it employs salicylic acid to draw out impurities from the pores, sweep away excess oil, and reduce the appearance of blackheads and blemishes while helping to prevent future breakouts. 
Reportedly suitable for sensitive skin, the formula boasts antiseptic benefits to soothe irritation, while antioxidant-rich grape seed polyphenols create a protective barrier against damaging environmental aggressors. In addition, rosewater replenishes intense hydration to the skin to create a natural, healthy-looking glow.
Product claims include: tighter pores, smoother skin and a clear, radiant complexion; plus, it is fragrance-free. Optionally, the serum is suggested for application directly to individual imperfections as a spot treatment.
Niacinamide is known to activate hydration, even out skin color and influence sebum production.
Users are instructed to apply the product morning and evening to the face, avoiding the eye contour, and allowing it to penetrate for one minute before applying a preferred skin cream. If skin is too dry after application, the user should limit to once a day.
This column will review the ingredient listing for claims substantiation and functionality.
Water Base, Actives and Antiseptics
The formula is a water-based system containing rose flower water, which has hydrating and soothing properties; antiseptic alcohol; and butylene glycol, a solvent. The active ingredients comprise niacinamide, which is known to activate hydration, even out skin color and influence sebum production; and the keratolytic and anti-inflammatory salicylic acid.
The essential oils—lavender, Melissa officinalis, mint, rosemary, rose geranium and lemongrass—contribute astringent and additional anti-inflammatory properties to the formula.
Benefit Ingredients
The hydrating salt of the hyaluronic acid macromolecule, i.e., sodium hyaluronate; plus, palmitoyl grape seed extract, an antioxidant emollient containing polyphenols and flavonoids, help to soothe the skin and reduce environmental oxidative damage.
Tocopherol is an antioxidant while sodium hydroxide is a buffering agent, to adjust the pH of the formula. Sodium phytate is a chelating agent and xanthan gum serves as an emulsion stabilizer.
Notably, the constituents in the essential oils—citral, citronellol, geraniol, limonene and linalool—may be sensitizing.
Conclusions
In my view, the ingredients in the formula support the claims for reduced inflammation and excess sebum production; the soothing and prevention of breakouts; and protection against oxidative environmental damage.
Ingredients: Water (aqua), Rosa Damascena Flower Water, Alcohol, Niacinamide, Butylene Glycol, Salicylic Acid, Sodium Hyaluronate, Cymbopogon Citratus Leaf Oil, Lavandula Hybrida Oil, Melissa Officinalis Leaf Oil, Mentha Piperita (Peppermint) Oil, Pelargonium Graveolens Flower Oil, Rosmarinus Officinalis (Rosemary) Leaf Oil, Palmitoyl Grape Seed Extract, Sodium Hydroxide, Sodium Phytate, Tocopherol, Xanthan Gum, Citral, Citronellol, Geraniol, Limonene, Linalool.