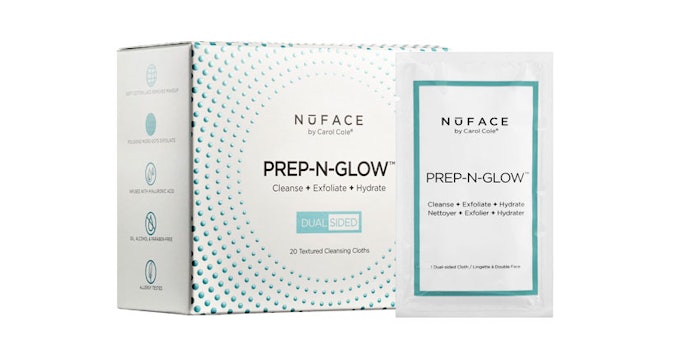 NuFace Prep-N-Glow Cloths are designed to cleanse, exfoliate and hydrate skin. The dual-sided face wipes are said to effortlessly remove makeup and leave skin feeling smooth and supple, preparing it for additional treatment steps.
Made from soft cotton lace, the smooth side dissolves dirt, grime and impurities, while micro-dots deliver gentle exfoliation to buff away dead cells that dull the skin and stubborn makeup. Each cloth is saturated with a blend of hyaluronic acid, antioxidants and minerals, which help to protect and moisturize the skin for a refreshed, radiant and purified complexion.
The cloths are individually packaged for optimum potency, and free from oil, alcohol, parabens and sulfates. This column will review the ingredient listing for functionality and claims substant­iation.
Water Base
The formula is a water-based system containing the humectants betaine, glycerin and the hygroscopic macromolecule sodium hyaluronate. Polyglyceryl-4 laurate/succinate is an emulsifier, and the system is preserved by phenoxyethanol and ethylhexylglycerin. Sodium citrate acts as a buffer to adjust the acidity, and the formula contains fragrance.
Active Ingredients
The active ingredients in the formula include Saccharomyces copper, magnesium and zinc ferment extracts, which are high in bioavailable minerals, amino acids and vitamins. These ingredients soothe, hydrate and repair the skin. Grape seed powder extract provides abrasive particles for exfoliation and polyphenols with antioxidant properties.
Maqui berry fruit juice contains antioxidants and anti-inflammatory entities, while ginkgo extract has been found to suppress inflammation. Licorice has soothing and brightening/lightening properties and hickory extract has a toning action on the skin.
Conclusions
In my view, the formula in which the prep-cloth is saturated contains ingredients to substantiate the cleanse, exfoliate and moisturize claims, in particular to refresh, enhance radiance and brighten the skin. Although the formula does not contain ethanol, the solvents might not suit very sensitive skin.
Ingredients: Water (aqua), Polyglyceryl-4 Laurate/Succinate, Betaine, Phenoxyethanol, Saccharomyces/Copper Ferment, Ethylhexylglycerin, Fragrance (parfum), Glycerin, Saccharomyces/Magnesium Ferment, Saccharomyces/Zinc Ferment, Sodium Citrate, Sodium Hyaluronate, Vitis Vinifera (Grape) Seed Powder Extract, Aristotelia Chilensis (Maqui Berry) Fruit Juice, Glycyrrhiza Glabra (Licorice) Root Extract, Ginkgo Biloba Leaf Extract, Carya Ovata Bark Extract.