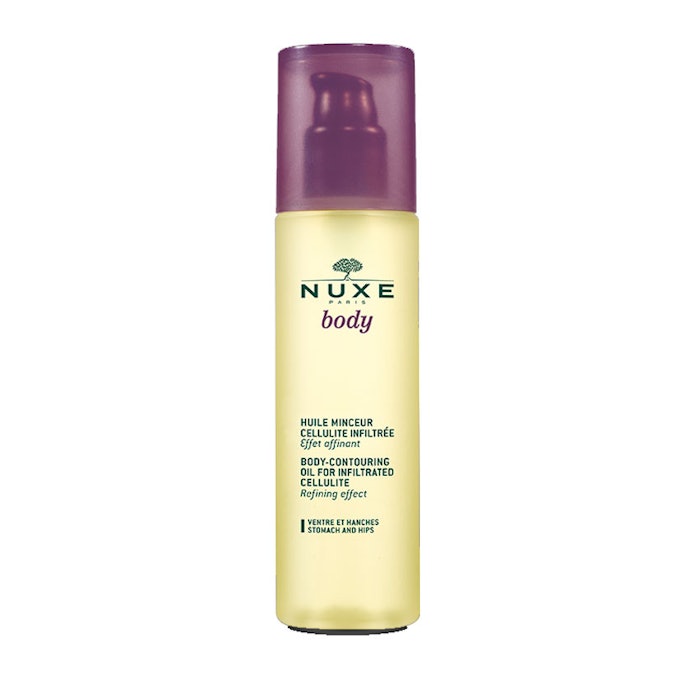 NUXE Body Huile Minceur Cellulite Infiltree (Body-Contouring Oil for Infiltrated Cellulite) is a body oil formulated to reduce the appearance of cellulite. Enriched with 10 essential oils, the product claims to eradicate the orange peel appearance of skin caused by "water-logged" tissues, and impart a refining effect on the stomach and hips. 
The product's ingredients are said to be 98.4% natural in origin; the product itself is touted as paraben-free. Instructions for application are to: use the oil in the morning and/or evening by rubbing it in with a circular motion, massage it vigorously into stubborn areas, then followed using grasp-press movements to "promote fat release."
This column will review the ingredient listing for claims substantiation and functionality.
Clinical Efficacy
The product information lists the following clinical evidence in support of the product's efficacy.
"The abdominal area is reduced, the hips are refined and 'slimmed' by up to 1.5 cm. [Average result obtained by clinical evaluation, under dermatological supervision, of 31 women after 56 days of twice a day use. Average across all subjects: -0.6 cm]."
"Skin feels smoother for 100% of participants and better toned for 85% of participants. [User test conducted under dermatological supervision with 39 volunteers after 28 days of twice-daily application]."
Formula Fundamentals
The formula is a mixture of plant oils enriched with plant extracts. The plant oil phase includes sesame, macadamia, hazelnut and sunflower oils that form the bulk of the formulation and facilitate massage. Further, caprylic/capric triglyceride is an emollient and propylene glycol dicaprylate/dicaprate is a skin-conditioning agent.
Extracts from various parts of plants, along with essential oils, are used for anti-cellulite benefits. These include: grapefruit, cedar, ylang-ylang, spearmint, pepper, cypress, rosemary, immortelle, kelp, bamboo and elemi resin. Cocoa extract also activates adipocytes, and potentially, the breakdown and release of stored fat.
Fragrance, Stability and Preservation
This formula is also fragranced with cedrol, an aromatic compound, and the potentially sensitizing allergens limonene, citral, citronellol, geraniol, linalool and farnesol. The fragrance is stabilized by benzyl salicylate. The formula is preserved by benzyl benzoate.
Conclusions
In my view, the ingredients in this formula support a mild anti-cellulite effect. The actual reduction in fat deposits through the continuous use of any anti-cellulite product, however, will depend on the availability and concentration of the active ingredients in the formulation.
The plant oils and extracts named will act to increase the microcirculation flow, promote lipolysis and restore the structure of subcutaneous tissue. And while there is little clinical evidence in the literature for plant extracts improving cellulite, the product does have clinical data on a small number of volunteers showing a mild effect.
Ingredients: Sesamum Indicum (Sesame) Seed Oil, Macadamia Integrifolia Seed Oil, Corylus Avellana (Hazel) Seed Oil, Caprylic/Capric Triglyceride, Propylene Glycol Dicaprylate/Dicaprate, Citrus Grandis (Grapefruit) Peel Oil, Tocopherol, Helianthus Annuus (Sunflower) Seed Oil, Cedrus Atlantica Bark Oil, Cedrol, Mentha Viridis (Spearmint) Leaf Oil, Cananga Odorata Flower Oil, Canarium Luzonicum Gum Nonvolatiles, Cupressus Sempervirens Leaf/Nut/Stem Oil, Helichrysum Angustifolium Flower Oil, Piper Nigrum (Pepper) Fruit Oil, Rosmarinus Officinalis (Rosemary) Leaf Oil, Theobroma Cacao (Cocoa) Extract, Alaria Esculenta Extract, Bambusa Vulgaris Sap Extract, Limonene, Citral, Benzyl Benzoate, Citronellol, Geraniol, Linalool, Benzyl Salicylate, Farnesol [N2106/B].
Source: Nuxe.com