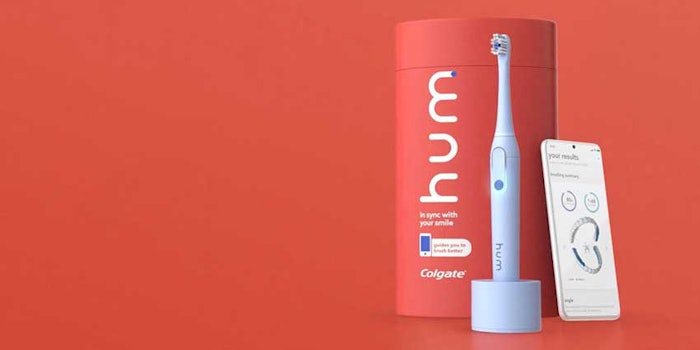 Colgate.com
The 'hum' brand by Colgate announced its partnership with Headspace, a meditation and mindfulness app, to help consumers create healthier daily oral care habits.
Related: Colgate Zero Portfolio Embraces Clean Oral Care
This partnership encourages consumers to treat pre-existing daily routines, such as brushing teeth, as a chance to observe and reflect on their thoughts.
Headspace will host "Mindful Moments" programming in the hum by Colgate app. The weekly content is designed to help facilitate new routines—whether getting into the rhythm of brushing better or finding time to be kind to one's mind.
As part of the partnership, hum will also provide free trials to Headspace Plus for its users. Recently, consumers have turned to apps as a way to reduce stress and stay connected, and to help maintain health and wellness. With Headspace Plus, users will now have access to additional tools to build mindful routines and to better manage stress. 
Launched in August, hum by Colgate was developed to improve brushing and adjust consumers to achieve clean and healthy teeth. The brand encourages more brushing by rewarding consumers for staying on top of their brushing routine—consumers earn Smile Points every time they brush or complete an activity on the hum app that can be used to purchase any product in the hum app store or redeem offerings from wellness partners, such as Headspace.
Previously: Unilever Reports CPC Mouthwash Reduces COVID-19 by 99%
The product's Smile Points and rewards are meant to keep users engaged and motivated to brush with connected technology so they continue to benefit from the app's personalized guidance for best brushing practices.
"Headspace is a perfect partner for hum as both of our brands share the mission to reinforce healthy habits while improving overall health and bringing more smiles to the world," says Bill Van de Graaf, vice president of marketing North America, Colgate-Palmolive. "Uniting our brands offers an opportunity for hum to continue to create experiences that are relevant for millennial consumers' lifestyles and to reinforce the tie between oral health and overall wellness."      
"It's exciting to partner with a brand like hum, which shares our commitment to supporting … daily routines and [in] just a few minutes a day, hum can help to improve health and happiness," said Lindsay Shaffer, senior director of partnerships at Headspace. "By incorporating mindfulness into the daily brushing routine, consumers are able to care for the mind and smile at the same time."
Featured: Wellnesse Launches Eco-friendly Whitening Toothpaste