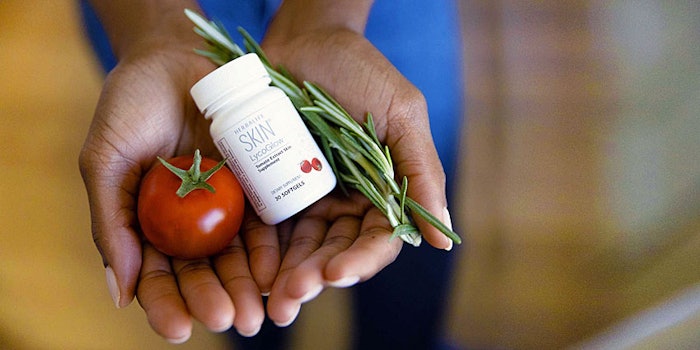 Lycored
Lycored's proprietary nutrient complex, Lycoderm, is incorporated in Herbalife Nutrition's latest Herbalife SKIN product, LycoGlow.
Related: Lycored "Beyond Natural" Lumenato for Skin Wellness
The product is said to help support skin smoothness, brightness and firmness for a healthy glow from within with a once-daily soft gel capsule, designed to complement a holistic skin care routine for a more radiant look.
Lycoderm is a proprietary blend of tomato phytonutrients and rosemary leaf that reportedly offers optimal concentrations of lycopene, phytoene, phytofluene and carnosic acid. The synergistic combination of these nutrients helps balance the skin's response to sun exposure and environmental stress.
"Our philosophy is that healthy skin starts on the inside," said Zev Ziegler, vice president of brand and marketing at Lycored. "A growing number of consumers share that view and they're turning to plant-based ingredients such as tomato-derived carotenoids to nourish their skin. Lycoderm is our flagship ingredient for ingestible skin care supplements and we're honored that Herbalife Nutrition has chosen it for Herbalife SKIN LycoGlow, a truly exciting new product."
"Herbalife SKIN LycoGlow taps into growing consumer demand for ingestible skin care products that contain plant-based ingredients rooted in research and sprouted from science," added Ibi Montesino, senior vice president and managing director, North America at Herbalife Nutrition.