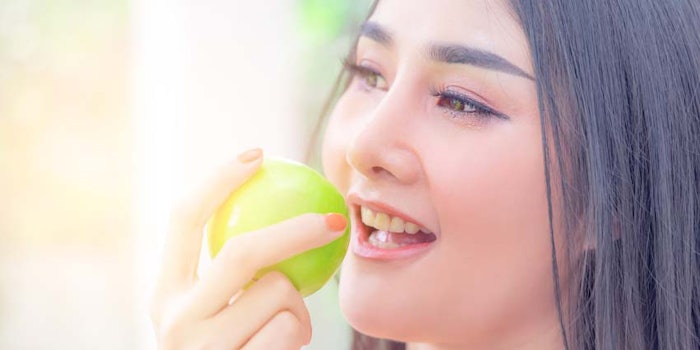 Wildcrafted immature green apples from central Asia were used to produce BGG World's ApplePhenon supplement. The gentle extraction processes used are said to preserve high concentrations of polyphenols and procyanidins, which proved beneficial for skin in a recent clinical study.
The research, published in Nutrients, sought to evaluate the effects of apple polyphenol (AP) administration on the facial skin conditions and pigmentation induced by ultraviolet (UV) irradiation in 65 healthy women subjects, ages 20-39. Participants were randomized to receive tablets containing AP (300 or 600 mg/day) or a placebo in a double-blinded, placebo-controlled clinical trial.
After 12 weeks, the supplements significantly prevented UV irradiation-induced skin pigmentation, although not in a dose-dependent manner. No significant differences were detected between the groups with regard to transepidermal water loss. A reduction in skin reddening (sunburn) was observed after UV irradiation of the treatment groups versus the placebo group. Less skin darkening due to UV irradiation also was noted.
In addition, the study analyzed the effect of ApplePhenon on the generation of superoxide radicals. Results indicated all of the oligomer fractions present in the supplement strongly inhibited the generation of superoxide radicals, demonstrating its SOD-like antioxidant activity.
The authors concluded the results demonstrated that APs and their major active compounds, procyanidins, have several health benefits including serving as an internal sunscreen and antioxidant activity.