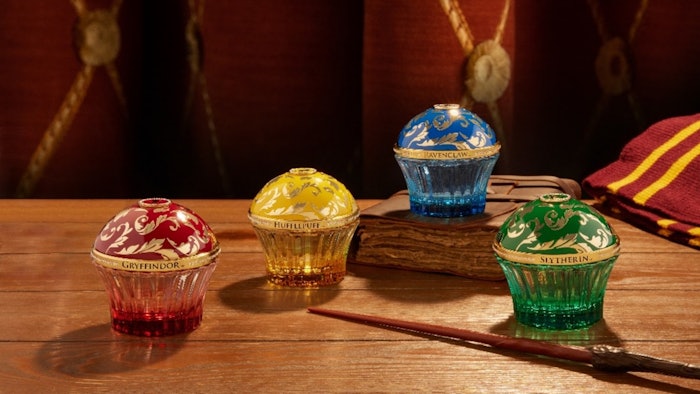 Retrieved from Wizarding World Press Release
House of Sillage has released a "Harry Potter" inspired perfume and lipstick collection, just in time for the holiday season.
Related: Guerlain Adds Two Scents to Aqua Allegoria Collection
The line includes one candle, a perfume discovery coffret, and four fragrances with matching iconic bow case lipsticks celebrating the four Hogwarts houses.
The perfumes were carefully blended and selected to represent the characteristics of each Hogwarts house.
The Gryffindor fragrance has notes of black currant bud, burgundy Dahlia, patchouli and Madagascar vanilla.
The Hufflepuff fragrance has notes of coconut cream accord, Sambac jasmine and vanilla bourbon. 
The Ravenclaw fragrance has mint, lily of the valley, cardamom and Virginian cedarwood.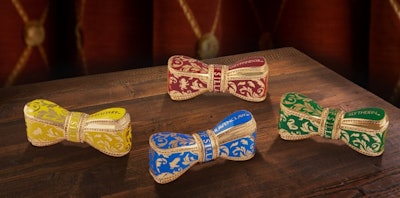 The Slytherin fragrance has bergamot, black rose, clary sage oil and Australian sandalwood.
Each fragrance bottle was crafted with hand-polished French glass and caps adorned with 100+ Swarovski crystals.
The Harry Potter Bow Lipsticks were created from precious metals. The lipstick refills are smooth, pigmented and hydrating, in shades varying per house from wearable nudes to deep plums.
The sticks are formulated to provide full coverage with a satin finish. They feature diamond powder, to impart luster and firmness, in a creamy lip-nourishing formula. Vitamin E is added to enhance lips with antioxidants and block free radicals.