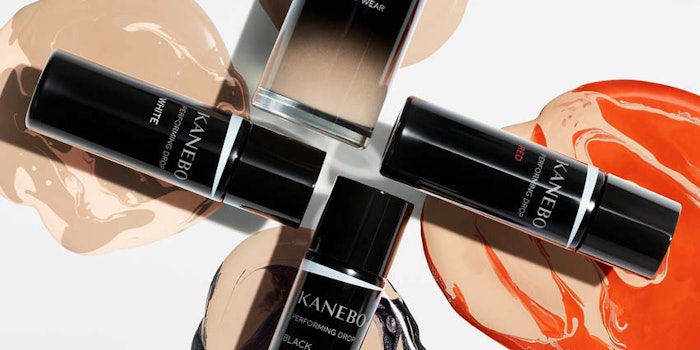 In February 2020, Kao Corp.'s Kanebo brand rolled out color cosmetics under the concept "I Hope" in support of diversity and consumers feeling happy about their individual differences. The line extension, to be launched in September 2020, features adaptable products to meet those individual needs.
The new additions include a makeup base and foundation that can be combined to control color and texture. On a functional level, the company describes its new makeup strategy as "shifting away from 'concealing' skin concerns with foundation on top of makeup base, to widening the range of expression by finishing the skin with a base-and-foundation blend."
Kanebo underlines that finer control of skin texture and color enables users to reveal their distinct features. In addition to the new makeup base, the company will release lip and eye makeup to support individual expression, establishing a greater presence for the brand as one that "delivers hope."
See related: What Women Want, Natural vs. Premium Foundation
The new product line will feature:
Kanebo FusionFit Wear foundation, to enhance the beauty of skin by "feeding" it with ample moisture and glow. The product is described as a delicately thin veil that forms a clear, dewy finish while concealing dullness, unevenness and pores. Hybrid pigments coated with an ingredient containing amino acid derivatives similar to natural components of skin are said to ensure beautiful, clear coloring that lasts.


Kanebo Performing Drop is a makeup base available in a now-wider range of textures and finishes. When used with the FusionFit Wear product, the two reportedly give skin a clear, effortless-looking finish by controlling color and texture. The Performing Drop product itself creates distinctive impressions and is available in Radiant Black, Vibrant Red and Misty White shades.


Kanebo Moisture Rouge Neo is a lipstick that combines color with care, both imparting color to lips while providing abundant moisture. According to the company, its soft texture blends evenly and adheres closely to the lips while enveloping them in a rich color. The oil base, with its wrapping effect, is designed to comfort the lips with sensations of moisture while also protecting them from dryness. 
Additional products in the range will include Kanebo brand drawing paint, a cream-type face paint in multiple colors to accentuate the lips, eyes and face with creative touches; and an eye color duo, combining "two colors finely calculated to give impressive contrasts."
The initial launch is slated for Sept. 4, 2020, in Japan, with additional roll-outs to follow.