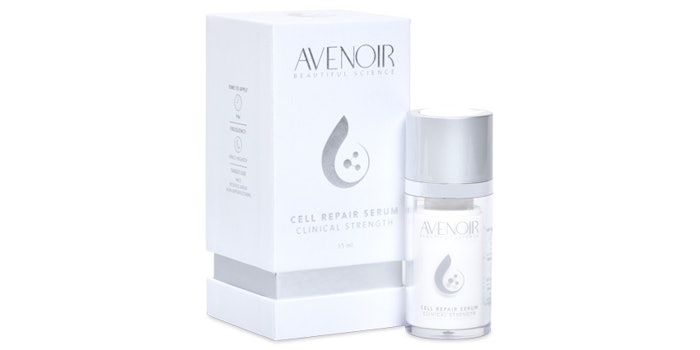 https://avenoircosmetics.com/product/cell-repair-serum-clinical-strength/
Avenoir Cosmetics introduced its Cell Repair Serum–Clinical Strength. The serum is based on the company's Cell Repair Nutrient formula.
Related: Blis Technologies Applies Live BLIS Q24 Strain in Probiotic Hydration Serum
The product is said to help consumers achieve smoother, more radiant skin by repairing and rejuvenating it, boosting collagen levels to promote hydration, and combating the signs of aging. According to the company, within weeks, the appearance of wrinkles, fine lines, discoloration, redness and sun spots can be reduced with regular use of the serum.
The product includes active ingredients such as Avenoir's Repair Nutrient formula, which is said to contain more than 2,500 nutrients, cytokines and growth factors to achieve radiant skin. According to the company, in a four-week clinical trial, 95% of users reported overall skin improvement; 95% of users reported an improvement in skin texture (smoothness/softness); more than 90% of users reported an improvement in general redness and irritation; and more than 75% of users reported a younger appearance.
"This serum allows men and women to have a healthier, youthful-looking complexion," said Ramon Coronado, Ph.D., founder of Avenoir Cosmetics. "We want to help individuals repair their skin while addressing inflammation and reducing the appearance of redness, fine lines and wrinkles while enjoying the scientifically proven ingredients that focus on regeneration and rejuvenation."
Ingredients: Cell Repair Nutrient (INCI not disclosed), Sodium Hyaluronate, Capryl Glycol EHG, EDTA, Phenoxyethanol SA, Sodium PCA, Water (Aqua).