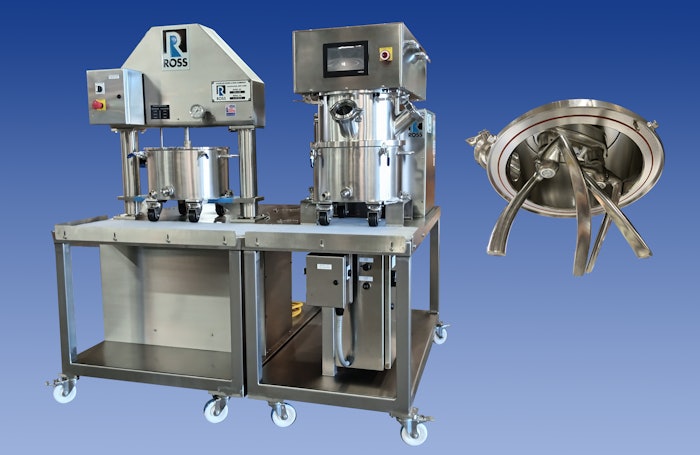 ROSS has announced its line of double planetary mixers, which come in a range of configurations and sizes ranging from 0.5 pints to 750 gallons and can mix thick, sticky or putty-like materials.
The Sanitary Double Planetary Mixer Model DPM-4S and Sanitary Discharge System Model DS-4S are customized and engineered for efficient processing of medical-grade silicone formulations in a portable workstation, per the company.
Related: Charles Ross & Son Co.'s ROSS Three Roll Mills for Fine Particle Dispersions
The 4-gallon double planetary mixer features two high viscosity stirrer blades which rotate on their own axes while orbiting the mix vessel on a common axis with a slicing motion that pushes product forward and downward, per the company.
Designed for vacuum operation, the mixer is equipped with an electromechanical lift to raise/lower the vacuum hood and a 50-psig heating/cooling jacket on the mix can. All product contact parts are constructed from stainless steel type 316, 150-grit finish and electropolished, per the company. 
An acompanying discharge system allows for greater product yield and simplified clean-up.The change-can design enables semi-continuous operation, which can aid in production, per the company.