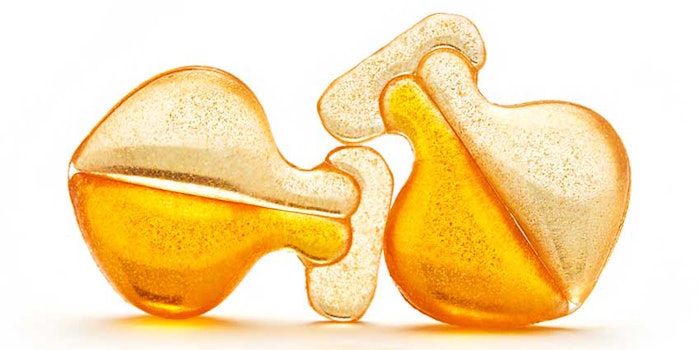 Catalent
Catalent launched its CosmoPod Duo soft gel capsule technology for topical skin treatment delivery and other applications.
Related: Sytheon Validates Xerotic Pruritic Skin Topical Treatment
Based on the company's CosmoPod unit-dose twist-off capsule technology, the CosmoPod Duo capsule features segregated compartments to accommodate two formulations into a single twist-off capsule. This dosing format allows for simultaneous application to combine ingredients that are either not typically compatible together, have a shorter shelf life when combined, or that complement one another separately but when combined, provide higher performance.
The twist-off functionality allows precision application and offers benefits across a range of products for skin, hair and body care. The CosmoPod Duo capsule is hermetically sealed to help protect formulations from light and oxidation, and to improve stability, compared with traditional beauty applications. The capsule is derived from a grade of natural carrageenan and sustainably sourced from seaweed.
"Catalent's latest innovation will support consumer health and beauty brands in bringing a wider choice of products to the market," said Aris Gennadios, Ph.D., president of Softgel and Oral Technologies, Catalent. "The CosmoPod Duo capsule offers consumers many benefits including a biodegradable, non-animal, plant-based shell, as well as portability and functionality for on-the-go application."
Previously: Gelita's 'Active' Capsules Boost Athleticism