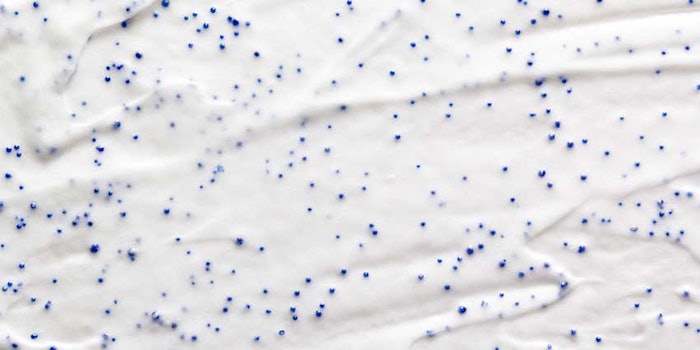 Green Science Alliance has developed biodegradable microbeads that function just as well as plastic beads, for formulation into body and skin care products.
Related: Microbeads Then and Now: Polyethylene and Alternative Next-gen Abrasives
Petroleum-based polyethylene beads and polypropylene beads are added to cosmetic products like scrubs in order to eliminate dirt and dead skin from the body. These materials do not degrade or dissolve in water and can measure in the hundreds of micrometers—already the size of microplastic pollution. According to Green Science Alliance, such a size paired with high quantities in products can potentially create problems for marine life.
In response, Ryohei Mori, Ph.D. at Green Science Alliance has developed biodegradable resin beads and scrubs from the company's cellulose, starch and PLA-based (polylactic acid) biodegradable resins. The size of the standard products are approximately < 100 micrometers.
Previously: Natural Sourcing Announces Alternative to Plastic Microbeads
In relation, Green Science Alliance offers biodegradable beads with nano cellulose composites, which have been found to biodegrade at a faster rate than standard biodegradable resin. The company also provides nano particle dispersions and a 100% natural biomass-based option.
This Green Science Alliance technology is registered as one of the United Nation Industrial Development Organization's technology.